Rift Valley leaders anxious over Ruto fate in Uhuru succession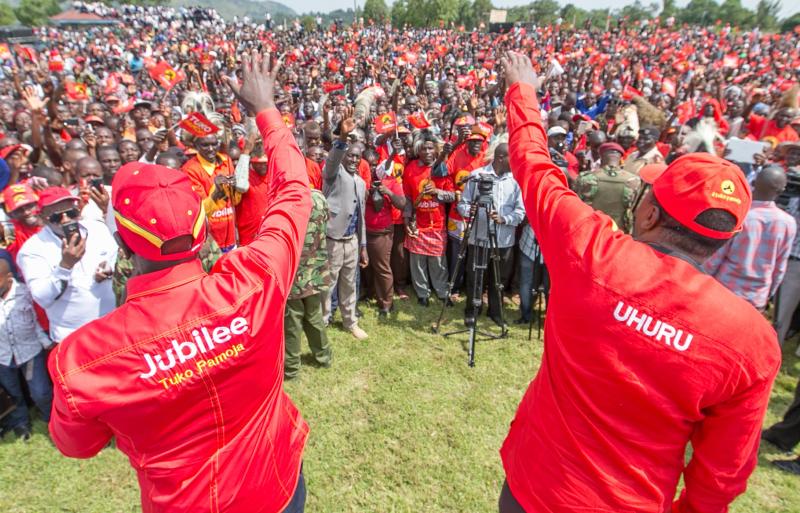 With 2022 succession politics already at play, leaders aligned to Deputy President William Ruto are getting restless over President Uhuru Kenyatta's endorsement of their man.
Two incidents last week during President Kenyatta's tour of Nandi and Bomet counties were probably the greatest sign of anxiety and restlessness among Ruto's supporters.
Last Sunday, when the President visited Kapsabet showground, area legislators and leaders prodded him to announce if the 2013 deal of the DP succeeding him when he leaves office is still in place.
The leaders from Ruto's political backyard say they have been steadfast in supporting the Jubilee agenda and have 100 per cent trust in Kenyatta's administration.
Nandi Senator Samson Cheraegey, who has been vocal against the sidelining of the DP in government, is categorical that leaders from the region will continue to push for a Ruto presidency.
In the run up to the last General Election, Uhuru and Ruto came up with a 10-year leadership plan that they used to rally Jubilee supporters behind Kenyatta's re-election.
They told their supporters that Kenyatta will complete his two five-year terms then back Ruto to take over for another 10 years. The region's leaders believe Ruto did his work to ensure Jubilee succeeded.
Political commentator Philip Chebunet says the region believes Ruto deserves to succeed Kenyatta because he is the most senior leader after the President and heir apparent to the presidency.
Dr Chebunet says the President's fifth agenda should be William Ruto.
Fuel commitment
"What Rift Valley is saying is that Uhuru's Big 4 should not drown succession. In fact, it will fuel committment to the agenda," he says.
An incident in Bomet County where seven MPs who were denied a chance to address the crowd walked out on the President is believed to be related to the 2022 succession politics.
Although the legislators claimed to have been sidelined by Governor Joyce Laboso, political comemntator Gilbert Soi says the walk out was more than a protest on lack of a chance to speak.
Soi says while the President's protocol team was keen on keeping time due to the tight schedule, it was also a technical move to contain local politicians from demanding Kenyatta's stand on 2022 politics and the thorny issue of the recent Mau evictions.
It is clear that leaders from the Rift Valley region are unsettled with Uhuru's silence on the succession issue since he was re-elected last year.
The matter is now being complicated further by the famous handshake between the President and opposition Chief Raila Odinga who fell out with Ruto in 2010.
Legislators allied to the DP view with suspicion Raila's close working relationship with Uhuru, with most claiming he has come on board to torpedo their man's ambition to be Kenya's fifth president.
Bomet Central MP Ronald Tonui says the handshake is being used to mock Ruto's ambition. "It is sad that the initiative is being used against us in Rift Valley region ahead of 2022 elections instead of reaching out to unite the country," Tonui says.
Irrelevant
But Emurua Dikirr MP Johanna Ng'eno says the issue of whether or not the President will back his deputy in 2022 is irrelevant.
He says it is a matter that will be dealt with when the moment arrives, asking his Rift Valley colleagues to first serve the people who elected them.
"It is only one year since the last general election. There are four more years to another election. "Between now and then, so many things will have changed. The picture Kenyans are getting is that Kalenjins are power hungry. That is wrong," says Ng'eno.
Some say the Rift Valley leaders should respect the President.
"They are in the government and if there are pressing issues affecting their people, they can book an appointment with the President to let him address them. Walking out on him was unfortunate," says Narok North MP Moitalel Kenta.
Matters have been made worse by Mt Kenya leaders, led by JP Vice Chairman David Murathe, who have welcomed Raila's appointment as African Union (AU) Representative for Infrastructure and Development but urged him not to abandon his political ambition.
Murathe, a trusted Uhuru's ally, told Raila not to stop active politics now that he has another assignment.
Nyeri Town MP Wambugu Ngunjiri has said more than once that it is not a foregone conclusion that the DP will succeed the President.
During the funeral of Benga music maestro Joseph Kamaru, East African Legislative Assembly MP Maina Kamanda said Uhuru is the community spokesperson and he will show them the way. In Kapsabet where leaders were allowed to address the crowd, Uhuru assured the people of Nandi, Ruto's home turf, that he will not renege on the deal.