Raila Odinga explained why he supported Uhuru Kenyatta's tax increase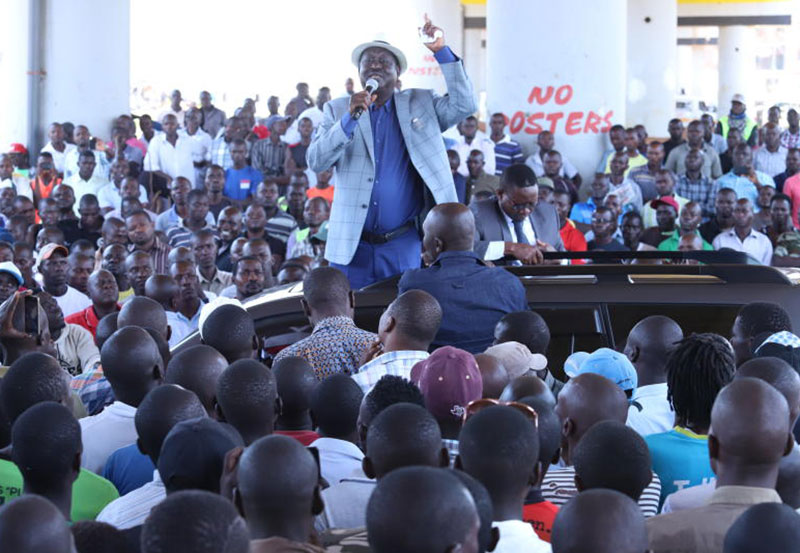 National Super Alliance (NASA) chief Raila Odinga yesterday drove into a crowd protesting the high cost of living in his Kisumu backyard. The Opposition leader defended President Uhuru Kenyatta for settling on the eight per cent tax on fuel.
A section of the crowd that surged to see him as he drove through Kondele, shouted "fuel!" "fuel!" and brandished placards. The Opposition leader had to explain why he stood with Uhuru in the fuel tax stand-off.
Raila, addressing thousands of residents in Kondele and later Kibuye, argued that the Budget had deficits that needed to be filled.
Culture of saving
He was in Kisumu to preside over the official opening of Unaitas Sacco, Kisumu branch, near Kibuye.
He had earlier addressed a business stakeholders' meeting organised by Unaitas, where he encouraged Kenyans to embrace the culture of saving.
"I know the issue of the VAT on fuel is the biggest issue affecting Kenyans now," said Raila, adding that the country had a lot of debt that needed to be repaid.
Spiraling into a crisis
He said the situation was on the verge of spiraling into a crisis if the worrying financial state is not addressed.
The NASA chief said they engaged in dialogue with Uhuru to deliberate on the proposals before he decided to rally Opposition MPs to support the tax.
"The budget deficit meant that if the VAT was to be reduced to zero, it was going to hurt our country," said Raila.
He said a reduction of the tax on fuel meant that the Government was going to cut allocations for salaries and also that of the health sector, which was going to affect everyone.
He said the move could have led to strikes by workers in the various sectors, including the teaching and nursing fraternity.
"I engaged with the President and he explained to me the financial state that our country was in," said Raila.
The money the country has been borrowing, he said, has not been used properly.
He claimed some of the money had been misused by individuals, with some hidden in foreign banks.
Raila said they decided to support the tax, but with conditions, including ensuring that the President streamlines the Government to ensure money is spent responsibly.
"We have given Uhuru one year and some of the things that must be addressed is corruption," said Raila.
He claimed some politicians used the loans the country had been borrowing for personal gains, cautioning leaders against excessive expenditure.
"The money that has been hidden in foreign banks must be brought back to the country," said Raila.
Raila was accompanied by MPs Fred Ouda (Kisumu Central), James Nyikal (Seme) and Jared Okello (Nyando), Kisumu Deputy Governor Mathew Owili alongside a host of members of the county assembly.
The leaders told the cheering crowd they would still back Raila for presidency in 2022.