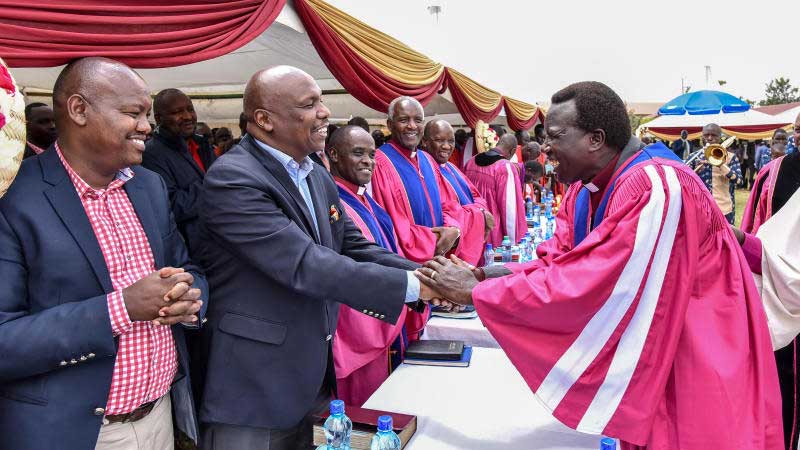 Mombasa Governor Ali Hassan Joho and Baringo Senator Gideon Moi have agreed to work together to unite Kenyans. On Saturday Joho, who is also the Orange Democratic Movement (ODM) deputy party leader, paid a visit to former President Daniel arap Moi at his home in Kabarak, where they held a closed-door meeting. During the meeting, Joho and Senator Moi expressed willingness to work together. Joho's visit to Kabarak comes about two months after Gideon paid him a courtesy call at his Mombasa office.
SEE ALSO: Gideon promises to push for 9km tunnel to tame floods near lake
Speaking at Emining African Inland Church during a service to bid farewell to retired Bishop Paul Raimo yesterday, the senator praised Joho for his rise in politics and support for Baringo residents. Gideon announced that the Mombasa governor would soon return to Baringo Central to initiate a project the retired president had requested. "He has come to Baringo to assist us and will be here before the end of the year to assist us in some work Mzee asked him to," said Gideon. Build bridges Joho, who attended a fundraiser in Churo in Baringo, said he was ready to join hands with Gideon to unite the country and build bridges after the March 9 handshake between President Uhuru Kenyatta and ODM leader Raila Odinga.
SEE ALSO: Kanu gets team to boost presence in Coast
"Our agenda with Senator Gideon Moi is to unite Kenyans from all regions and tribes," said Joho. The governor, who termed his meeting with Moi as an extension of the Building the Bridges initiative, called on counties and the national government to collaborate in the fight against corruption. "The journey we have begun today shall unite all Kenyans. We shall not depend on Uhuru and Raila alone. The two have done their best," he said. Joho said his visit to the former president was an eye-opener and that he had learned a lot from him. He said the former president asked him to help unite Kenyans.
SEE ALSO: Kanu and PDP in pact as Gideon's support grows
"Sitting with Mzee Moi has helped me a lot. His dream is to complete the work of seeing a united Kenya," said Joho. He supported President Uhuru's fight on corruption, saying the vice had slowed down development in the country. "Corruption is what has made people to live in poverty and slowed down development. It is a crime that should be fought by all." He reiterated that lifestyle audit of the Government's employees should continue to curb corruption.