Johnstone Muthama in fresh war with Kalonzo Musyoka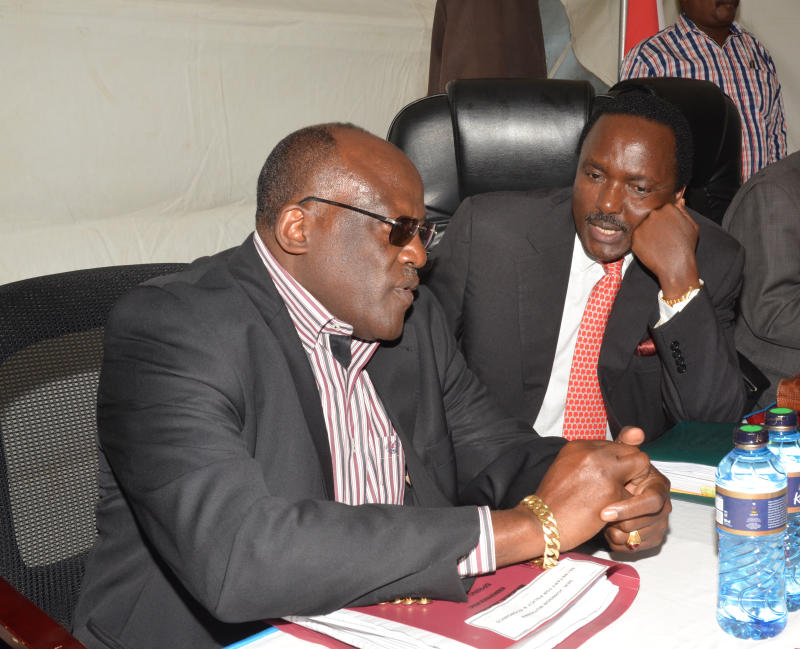 In what is shaping up into another political melodrama, former Machakos Senator and Wiper Democratic Movement co-founder Johnstone Nduya Muthama is daring his party leader over Machakos politics.
Jagged, bold and resolute, the wealthy Muthama has put Kalonzo Musyoka on notice that he must -- this time round -- get it right on the widely anticipated Machakos gubernatorial by-election or else he "comes in" to forestall a third Wiper loss for the seat in six years.
Muthama wants the Wiper ticket for the seat -- Wavinya Ndeti for governor and Peter Mathuki for deputy governor -- rejigged. The same ticket caused such a bitter fall-out between him and Kalonzo in the run-up to the 2017 General Election that Muthama pulled out of the the polls altogether.
The results bailed him out when Dr Alfred Mutua, riding on his new Maendeleo Chap Chap party, walloped the Wiper pair. They later lodged an election petition which they won at the Appeal Court last month but the governor rushed to the Supreme Court where the matter is still pending.
Jamming the process
"This is not a threat. If the lineup in Machakos is not set up properly, Muthama will come in to find a solution for the long-suffering people of Machakos. The options are clear, put up a good lineup or Muthama steps in to solve the situation," he told Saturday Standard in an interview.
He flatly refused to categorically affirm that he meant that he will vie himself -- as had been quoted in sections of the media -- only insisting he will "come in."
His options are however limited to expressing his interest, and jamming the process in court if the party refuses to consider him, or throwing his weight behind an alternate candidate outside Wiper.
In 2013, he also opposed the candidature of Mutua on a Wiper ticket but was ignored.
"I don't get it when people say I am threatening the party leader, this is normal… last year, I differed with him on the nomination process and I lived with it. And now that I am holding my position, that is not to say I am falling out with him," Muthama said.
But Kitui Senator Enock Wambua has told Muthama to cease his threats.
"Muthama's public pronouncements on Wiper are completely out of order and in bad faith. We can't be seen to be transacting party affairs through the media unless the motivation is to weaken our brand," he said.
Besides, Wambua added, the basis for the by-election -- if they come to pass -- would be Wavinya-Mathuki's contested win in last year's general election: "How do you then bring an outside person when someone is reclaiming what they had already won, how more unjust can you get?"
But Muthama says despite the issues he has had with his party in the past, he has never fallen out with his party leader to the point that they cannot sit down or work together.
"We are inseparable with Kalonzo. People and issues will come in between us but the following day you will see us taking tea and working to the future," Muthama said.
Least concerned
Despite Muthama's objections, Kalonzo appears determined to retain the Wavinya-Mathuki ticket. But Muthama believes it is pointless to retain the same ticket and expect different results.
When Kalonzo attempted to unite Muthama and Mathuki at the much touted Komarock Declaration in March, Muthama held out in his seat.
As the heat turns up in Wiper, Mutua is least concerned. He says he is concentrating on service delivery and that he is not aware of any by-election that may be in the offing.
"They are day-dreaming... the ordinary person in Machakos has no time to run around politicians for another election a few months later after they spoke loud and clear," Mutua said.
To fight drought, involve communities
According to the latest information from the Meteorological Department, rainfall will be poorly distributed in April, May and June, and this will have a serious impact on agriculture