Stronger Parliament key to check government in bed with opposition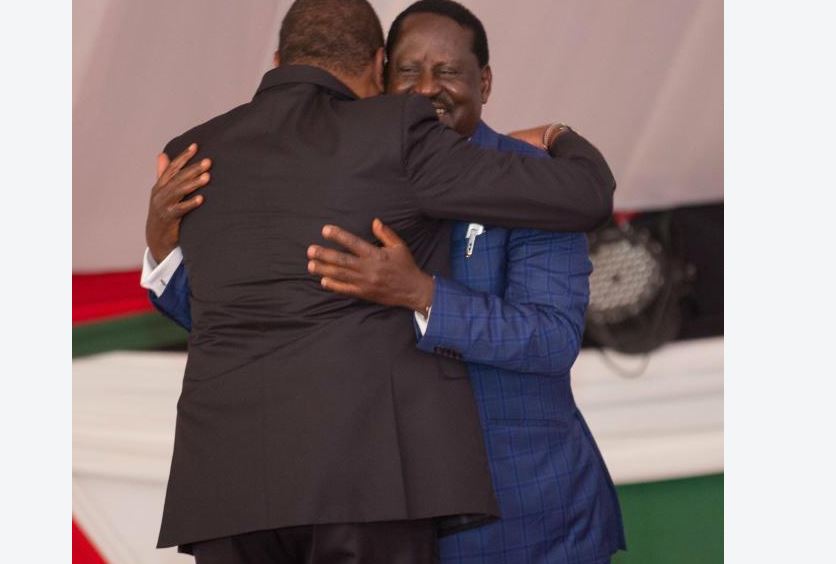 Experts have called for a more robust Parliament to keep the Government in check in the wake of a weakened Opposition.
Politicians, activists and analysts acknowledge that the handshake between President Uhuru Kenyatta and Opposition leader Raila Odinga had blurred the line between the Government and the Opposition.
The line was further blurred by last week's resolution by Wiper party to work with the Government. The Kalonzo Musyoka-led party is the second largest opposition outfit after Raila's Orange Democratic Movement (ODM).
Kalonzo's decision to take Wiper to the Government side has left the opposition National Supper Alliance (NASA) weakened.
The Kenya Human Rights Commission executive director, George Kegoro, and activist John Githongo said under the circumstances, it would to be difficult to marshal a strong opposition.
"On paper we are a multiparty democracy, but in reality, we are a one-party state. This is the reality we must all admit," said Mr Kegoro.
Mr Githongo, on the other hand, expressed doubt that Parliament would manage to keep the Government in check after the 'handshake'.
"Whether there will be an effective oversight of the executive's excesses remains to be seen," said Githongo.
Young democracy
Political analyst Martin Oloo argued that democracy in Kenya was still young and that political parties were yet to mature.
"Our politics is not about ideology but interests. But the 'handshake' has brought about one thing - members of both political sides can now exercise their mandates independently," said Mr Oloo.
National Assembly Speaker Justin Muturi insisted that the 'handshake' did not water down the role of the Opposition in checking the Executive, adding that Parliament would perform its role as the people's watchdog. "Saying they (Opposition MPs) support the Government in its agenda does not mean the Opposition is dead," said Mr Muturi.
Centre for Multi-Party Democracy (CMD) chairman Omingo Magara pointed out that the principal of opposition politics did not die after by parties opted to join or support the Government.
"It depends on the motive of the one joining the Government; the space of opposition politics will never die," said Mr Magara.
Makueni Senator and Wiper Deputy Chairman Mutula Kilonzo Jr conceded that thawing relations between the Government and the Opposition posed new challenges.
"It will be difficult to discern what is the Government's business and the role of the minority. There is bound to be a class of issues," said Mutula.
But the Ford Kenya deputy party leader and former Kakamega senator Boni Khalwale argued that the strength of an opposition was measured by the quality of its members as opposed to their number.
"There is still Ford Kenya and ANC. If those elected as independents can join hands with us then there is still a strong Opposition," he said.
MPs John Mbadi (Suba South), Alfred Keter (Nandi Hills), Jared Okello (Nyando), Opiyo Wandayi (Ugunja), Dan Maanzo (Makueni) and Nelson Koech (Belgut) called for a stronger and more independent Parliament.
Mr Mbadi, who is also the ODM chairman, denied that the party had joined Jubilee. "It should be clear that we have not joined Jubilee but are cooperating with them to fight corruption," he said.
Mr Keter called for the reconstitution of the Cabinet and parliamentary committees. "If Parliament remains independent then we do not even need an opposition," he said.
Mr Koech advised leaders from both Jubilee and NASA to put in place mechanisms for checks and balances.
"Some of us have always spoken our minds about internal issues without fear and will continue to do so since that is part of our mandate as MPs," he said.
Fighting graft
However, Mr Wandayi insisted that the Opposition had not joined the Government.
"We remain in the Opposition and continue to offer robust oversight to the Executive," he said.
His sentiments were echoed by Makueni MP Dan Maanzo.
"We have not joined the Government but only agreed to support the Big Four agenda," said Mr Maanzo.
Paul Njoroge, a former senator, claimed that a new opposition would spring out of the ongoing fight against corruption, while Baringo North MP William Cheptumo insisted that the Opposition was alive.
"Their decision to support Jubilee does not take away their oversight role," said Mr Cheptumo.