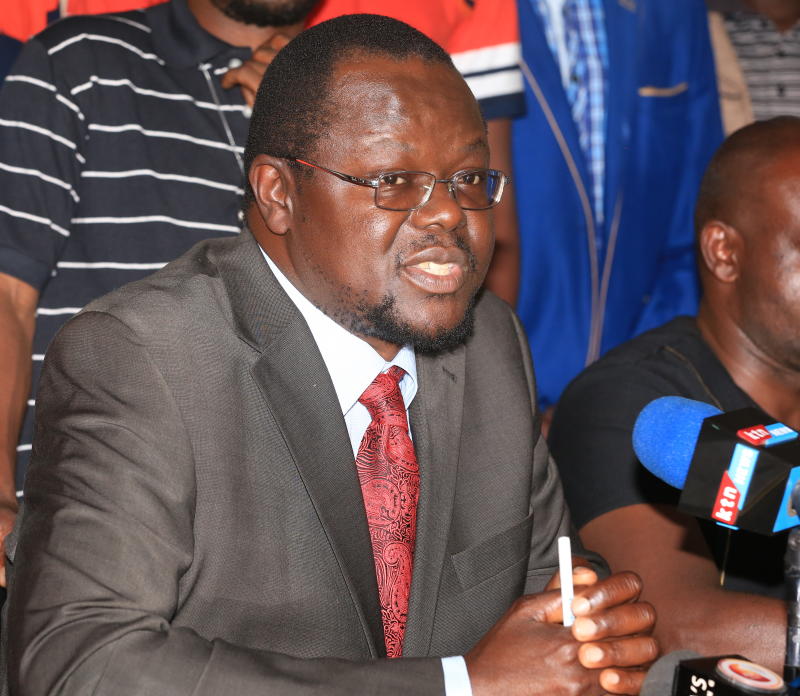 The decision by former Energy Minister Ochillo Ayacko to decline an ambassadorial appointment has in earnest kicked off the race to fill the vacant Migori Senate seat. Senator Ben Oluoch Okello was laid to rest last week and his seat is yet to be officially declared vacant by the Senate Speaker, but jostling has already started for his replacement. From his own account on Saturday, Mr Ayacko, who lost the governor's seat to incumbent Okoth Obado in the 2017 elections, appear to have rejected President Kenyatta's appointment for strategic political reasons.
Ready to serve
"I am ready to serve the great people of Migori either as a Ward Rep, MP, Senator or Governor and that is where my focus is," Mr Ayacko told the press. On Saturday, he declined to say whether he was interested in the Senate seat, only telling the Saturday Standard that his replacement on the list of appointments was "a sign of better things to come". Mr Ayacko was quickly replaced on the list by former Kasipul Kabondo MP Paddy Ahenda. Besides Ayacko, Okello's family also wants one of their own to replace the late senator. One of Mr Okello's widows, Hellen, son Willis and nephew Mark Okundi have expressed interest in the seat. The family members made their intentions known during the burial, with a passionate appeal to the Orange Democratic Movement (ODM) – the main party in the region and to which Senator Okello belonged – to help one of them inherit the seat. Willis, who is in his early 30s, told the mourners that he was fit to succeed his father.
"We have seen it happen to other families, where departed leaders are replaced by their relatives. Why not us?" he posed. The family said they will agree to pick one of them for the seat. Others being mentioned include former Nyatike MP Edick Anyanga, former Rongo MP Dalmas Otieno and businessman Eddy Oketch, who came second to Mr Okello in the 2017 General Election. Others are former Suna East MP John Pesa and former Migori Speaker Gordon Ogolla. Anyanga was on Saturday non-committal on whether he is interested in the seat. "I will respond when the right time comes," he told the Sunday Standard.
Deep pockets
If he vies, Anyanga will be a candidate to watch because he will likely bank on his vast political experience and deep pockets. He is also likely to secure the support of Governor Okoth Obado after the two buried the political hatchet shortly after the August 7 General Election. Anyanga's wife, Ann Omodho had contested against Obado. Ayacko also fought fiercely against Obado for the governor's seat and the two do not see eye to eye, save for last week when ODM leader Raila Odinga appeared to reconcile them during Okello's burial. Ayacko and the three relatives of the late Okello hail from Awendo sub-county, while Mr Otieno is from the neighbouring Rongo, a fact that some observers say could divide their votes in favour of an "outsider".
Proper nominations
With Jubilee having declared that it will not field a candidate, the battle remains within ODM. Residents urged the party to conduct proper nominations for the seat. "Attempting to give a direct ticket to any of the contenders will attract a serious backlash. "ODM knows only too well how its sham primaries in 2013 and 2017 proved costly," said Rev Samuel Ochieng, a church leader. Party chairman John Mbadi said the nomination will be free and fair. He ruled out direct nomination or endorsement of any aspirant, saying ODM will hold the nominations in a democratic manner.
Grassroots
In a careful move aimed at consolidating the party's grassroots strength and to avoid a possible fallout, Mbadi assured ODM supporters that they will let the people decide on who they want. "Let no one expect any favours from the party. "We are bound by rules of the game. We will only allow the people to make informed choices," Mbadi said. Migori has 388,633 registered voters. During the ODM nominations last year, Okello won the ticket with 68,194 votes, beating his main rivals, Ogolla and Michael Otieno.