Raila tells supporters to brace for tough political times ahead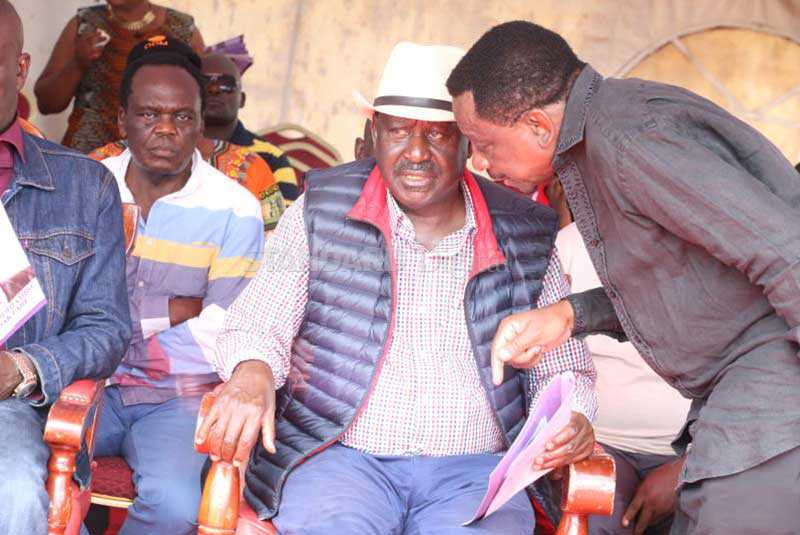 National Super Alliance (NASA) leader Raila Odinga broke his silence yesterday with an ominous warning on an impending betrayal in his political court.
Terming his silence strategic and speaking in parables, Raila told mourners at the burial of his uncle Benson Atinga in Alego, Siaya County, that cowards had started backing out of his Canaan odyssey.
He said he will not be surprised if people he did not name abandoned the journey.
"Even Jesus was betrayed by one of his closest disciples, Judas. Some people may want to betray us," he said without elaborating.
The NASA leader was 'sworn in' as 'People's President' on January 30 at Uhuru Park in Nairobi, a move that sparked differences at the opposition alliance after his co-principals skipped the event.
Cold feet
Yesterday, Raila told his supporters to prepare for tougher times ahead as he plans a fresh onslaught on Jubilee and warned that the next round of the political battle was not for the faint-hearted.
Raila said his silence was strategic and asked Opposition supporters to remain patient and hopeful. He also said he will soon give directions on the next course of action.
"We are heading for the roughest stretch of the journey that will not require cowards. Some people are growing cold feet. They are claiming the road has been blocked and that we should return to Egypt," he said without mentioning names. His quest for electoral and democratic reforms, he said, remains on course and will not be shaken. "Tougher things are coming. Our journey to Canaan is still on. We are not returning to Egypt. Don't give up," he said.
"We are like a people who are fasting as they await better things ahead," he said of his silence, adding: "The dove is up there in the tree but it has heavy matters in its chest".
Over the past week, there have been calls from some political quarters in NASA that the alliance be disbanded to allow the four principals to pursue solo presidential bids in 2022.
During an ODM National Governing Council (NGC) meeting last week, Mombasa Governor Hassan Joho took a swipe at Wiper leader Kalonzo Musyoka and ANC's Musalia Mudavadi for not showing up at Uhuru Park for the swearing-in.
On Friday, Wetang'ula announced his candidature for the presidency in 2022 and asked his colleagues to back him. In Wiper, Kalonzo's close allies say they may be charting a new path if they continued to be disrespected on account of their leader's no show at Uhuru Park.
"He and like-minded politicians in his small corner must however not expect Kenyans to blindly board a rudderless kite whose pilot is clearly not sure of the final destination," Kitui Senator and close Kalonzo ally Enock Wambua told Sunday Standard yesterday in reference to Joho's onslaught on his party leader.
But Raila also spoke of a united NASA yesterday, leaving supporters confused. After his uncle's burial yesterday, Raila went to another burial in Ugenya where he sang a different tune, and accused Jubilee and a section of the media of spreading propaganda against the alliance.
Speaking at the burial of Mzee David Orengo, Siaya Senator James Orengo's uncle, Raila said reports of trouble within NASA are pure rubbish.
"The swearing-in at Uhuru Park put us in the books of history. Kenya is now a case study for many countries. It has become an example to the rest of the world," he said.
Other speakers at the funeral included Busia Senator Amos Wako and MPs Opiyo Wandayi, Elisha Odhiambo, TJ Kajwang, Jackline Oduol, Christine Ombaka and James Nyikal who told of those asking Raila to retire from politics.
Retirement age
"Raila has not reached retirement age. Most of those who liberated their countries during the Biblical times and in Africa took over leadership at old age," Wako said.
The leaders vowed to help area MP Chris Karan, whose election was nullified on Friday, to recapture the seat.
Led by Raila, the MPs said ODM will do whatever it takes to retain the seat against former MP David Ochieng, who filed the petition against Karan and won.