Hit or Miss? Joho's new spring stirs debate on his future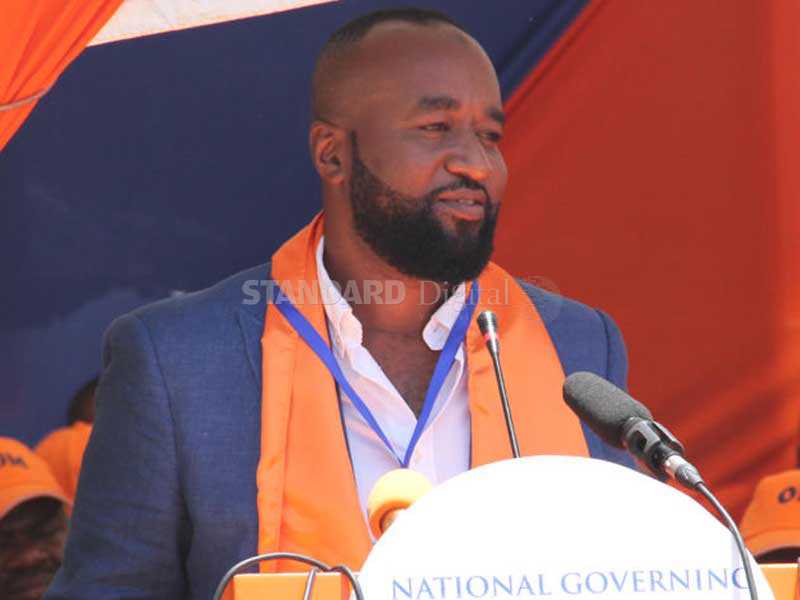 The surge of Governor Hassan Joho into the de facto leader of "Orange radicals" keen on milking the most political capital from NASA leader Raila Odinga's swearing-in has placed him at a place from which he will either rise or fall.
Analysts are divided on whether Joho's strong push against NASA co-principals Kalonzo Musyoka, Musalia Mudavadi and Moses Wetang'ula's no-show at the January 30 swearing-in of Raila as the "People's President" will make or break the blossoming career of the "Sultan".
Last week, Joho launched a scathing attack on Kalonzo, triggering a wave of protests from the Wiper Democratic Movement. But the attack also earned him a pat on the back from ODM firebrands who were looking for a strong voice to push through the protest against continued dalliance with Wiper.
Front status
In the wing that has found a succor in Joho is ODM Secretary General Edwin Sifuna and Chairman John Mbadi. They all seem to believe that ODM is bending over backwards to accommodate other NASA parties.
While some analysts feel that Joho's recent outburst against Kalonzo was unnecessary and that he should focus on building bridges, others say the move is smart enough to guarantee him a front-runner status in ODM succession politics.
"That's is his brand and it has earned him supporters and enemies," Coast political analyst Maimuna Mwidau says.
The attack, Ms Mwidau adds, is a sign that the governor has gained confidence after playing a key role during Raila's swearing-in.
But to Pwani University lecturer Prof Hassan Mwakimako, Joho's brand of politicking in the wake of the swearing-in divisions is misplaced.
"His intention was to showcase his loyalty to Raila in order to ward off any potential challenge for ODM leadership in the future.
But it (outburst against Kalonzo) was misplaced and a miscalculation. Even though it serves to alienate Kalonzo in NASA, it damages Joho's support in Ukambani," Mwakimako says.
The lecturer says Kalonzo enjoys a solid Ukambani base unlike Joho who cannot claim the same at the Coast. The Coast is a NASA stronghold, he said, because of Raila and not Joho.
"He (Joho) feels emboldened after playing a central role in the swearing-in of Raila and that is why he can tell off Kalonzo and other principals who did not stand with their leader at the hour of need," Maimuna says.
She however believes Joho should first concentrate on solidifying his home base.
Joho's critics such as Nyali MP Mohamed Ali, who just survived a poll petition, and former Senator Hassan Omar, have vowed to derail the governor's ambitions saying he is not fit to lead.
"He is crisscrossing the country telling people he will vie for the presidency. I advise him that battling for the presidency is not like fighting to be the chief of Maganyakulo," said the Nyali MP. Maganyakulo is a remote area in Kinango, Kwale County.
Enough enemies
Privately, some of Joho's allies say the governor should transit into a new form of politics and build bridges. They say the attack on Kalonzo and Musalia, whether or not it was sanctioned by ODM, could antagonise some within NASA and that could alienate him from other regions or tribes.
They believe he has enough enemies and should not make more. They however admit that the brand the governor has built remains an invaluable asset for any party.
Granted, Joho's style has paid up in the past. Riding on his battles with the Jubilee administration, he delivered a near 100 per cent of the Coast votes to NASA in the last election.
In the run up to the poll, Joho carved his national political image after leading successful NASA campaigns in Nairobi, Nyanza, Ukambani and Western Kenya in the absence of the coalition's principals
Many agree that Joho, a shrewd politician, played a victim to Jubilee attacks against him and his family's business, turning it around to endear himself to the voters.
Deputy Governor William Kingi says his boss enjoys massive support in upper Eastern, North Eastern, Coast and Nyanza and that his brand of politics resonates well with the voters.
"We have leaders from even other parties from North Eastern that have confided to us that if Joho would be on the ballot, they will support him," Dr Kingi says.
But a key ally of Kalonzo told Saturday Standard that ODM and its leadership ought to appreciate that every party within NASA has aspirations and every principal has ambitions.
"It's a coalition of equals, first among equals... but that does not mean we should continue tolerating one insult after another from choice leaders. A time comes when we have to stamp our foot on the ground and say enough of this. The time is now," Kitui Senator Enock Wambua says.
In the run up to the 2017 polls, a section of leaders from Luo Nyanza criticised Joho for making forays into the region without their permission. In one rally in Migori, violence erupted and shots were fired.
Back at the Coast, Joho is facing a daunting task to rally the 1.9 million votes behind him. According to Maimuna, Joho's political home base was still shaky and he must work extra hard to solidify it.
"He should tread carefully and not to alienate himself, especially from the home base because collectively, Omar, Ali and (Kwale Governor Salim) Mvurya can easily mobilise against him in 2022," Maimuna says.
To fight drought, involve communities
According to the latest information from the Meteorological Department, rainfall will be poorly distributed in April, May and June, and this will have a serious impact on agriculture