Ababu relinquishes position as leader of Labour Party of Kenya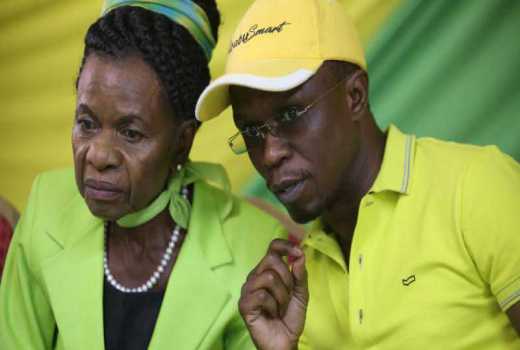 Ababu Namwamba has relinquished his Labour party leadership position in order to focus on his new assignment as Chief Administrative Secretary in the foreign affairs and international trade ministry.
The announcement came during a party members workshop held in Eldoret to deliberate on the way forward.
Namwamba was recently appointed by President Uhuru Kenyatta and had served as party leader of Labour Party since September 2016.
"My appointment position is meant to serve the nation as per the Constitution Article 131 as a public servant and I have to step down from the party," said Namwamba.
He challenged the Labour party leadership to find a fitting replacement from the group.
He lauded the strides made by the party adding that his new post is as a result of their support for re-election of President Kenyatta.
"It is no doubt that you delivered the votes the basket and that is why Jubilee party won the elections. Initially we told Kenyatta that we are entering into a partnership and he should scratch our back along with incorporating our vision and agenda,"he noted
Namwamba observed that as Labour party they will continue to support Kenyatta's big four agenda.
"Our party is built on social justice and we look forward to contributing immensely to the nations agenda," he added.
He insisted that leaders should focus on development noting that the political season is now over.
Namwamba used the platform to laud calls made by envoys calling for the end on political season.
"The envoys acted responsibly and showed that they are true friends of Kenya. The opposition should also acknowledge that he was duly elected and sworn in as president,"
He added: "Some people are complaining of being denied security yet they do not want to recognize that Kenyatta is duly elected, how can you speak on both sides of the mouth," he posed.
He noted that the opposition should focus on its role instead of fighting the state.
The party Chairperson professor Julia Ojiambo observed that it's party is set to undergo substantive restructuring which will eventually election of a new party leader.
"we also congratulate the president for the appointment of one of our own. We shall be committed in supporting his agendas," she noted.
Ojiambo further challenged the state to ensure that small parties are also financially supported to run its programs.
"It is only ODM and Jubilee that benefit from 15 percent of funds from government. It is imperative that we also get funding instead of digging in from our members," she explained.
Labour party is set to hold its 20th celebrations since it's inception.