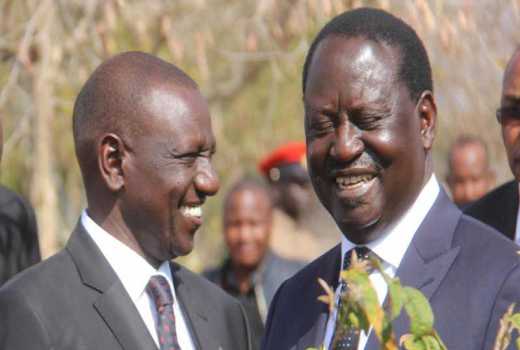 On Thursday January 25, at a funeral service of the late William Koech, an ODM branch chairman from Kipkeleon East, Opposition Chief Raila Odinga told Deputy President William Ruto that he would not win the presidency in 2022 without his support.
"My election victory has been stolen since 2007 and I would like to tell the Deputy President William Ruto that he will not ascend to the presidency without my political support," said Raila.
Remarks that would elicit an uproar among his political allies and foes.
It would however take more than 24 hours for his personal adviser Salim Lone to dismiss the media's interpretation of the statements saying it was a joke.
He termed the excerpt "when pigs fly" from Raila's speech as an idiomatic expression used when one wants to point to something that will never happen.
"That is what Raila Odinga was saying. He was using humour to highlight the impossibility of Ruto thinking he might be president in 2022. I can now confirm, having just talked to Odinga, that he was not telling his arch opponent that he could support him," he said.
Hitherto, a response by DP William Ruto's spokesman David Mugonyi had questioned why Raila wanted to 'support' Ruto despite signing an agreement to support Wiper leader Kalonzo Musyoka come 2022.
Salim Lone maintained that a section of the media had missed Raila's joke and instead misreported it as a serious remark; stirring a debate among his closest NASA associates who thought Raila was now seeking to ingratiate himself with Ruto- a former ally turned to a foe- ahead of 2022 polls.
"The remarks made absolutely no sense, they meant that Odinga had abandoned every aspect of NASA's massively successful campaign to correct the fraud that was perpetrated on Kenyans in August and October to put Kenyatta and Ruto into State House" he added.