With huge trail of broken MoUs, how long will NASA hold?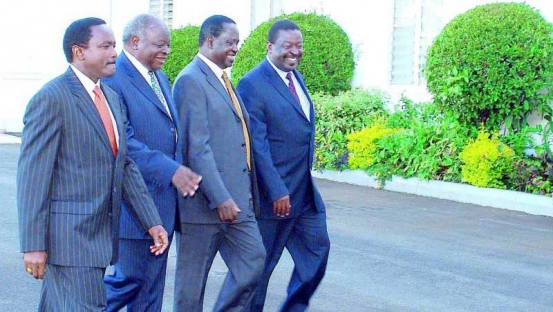 In Kenya's political scene, the words Memorandum of Understanding (MoU) seem to be the middle name of Opposition chief Raila Odinga.
Since he signed one with retired President Mwai Kibaki in 2002, the NASA leader has relied on such MoUs in his bids for the presidency.
In the 2002 pre-election pact -- which was disregarded immediately after that year's poll -- Raila had thrown his weight behind Kibaki in the race for the National Rainbow Coalition (Narc)'s flag bearer to face off with Kanu's Uhuru Kenyatta.
Uhuru was then former President Moi's preferred successor.
Before Raila's surprise endorsement of "Kibaki tosha" at Uhuru Park, Narc had been embroiled in a fierce tussle for flag bearer.
Kibaki Tosha
Kibaki, Simon Nyachae and former Vice Presidents Wamalwa Kijana and George Saitoti were all jostling for the position.
With the deadline to name presidential candidates fast approaching, Raila pulled a surprise by endorsing Kibaki with his "Kibaki Tosha" call at Uhuru Park.
Nyachae left the coalition soon thereafter to form Ford-People, citing betrayal by Raila. The others backed Kibaki and were rewarded with Cabinet appointments.
Raila, who had earlier bolted from Kanu citing Moi's betrayal to name him successor after disbanding his National Development Party (NDP), had cut a deal with Kibaki to be named Prime Minister.
In an MoU crafted by lawyers from both sides, the Constitution was to be amended to create the prime minister's position.
But upon ascending to the presidency, Kibaki thrashed the MoU at the behest of his advisers and close allies.
Kalonzo Musyoka, who was a minister in Narc government, describes the betrayal of Raila as a stab on the back. He says Raila could not even be allowed to meet Kibaki by then State House Comptroller Matere Keriri.
"Those near Kibaki didn't want anything to do with the MoU. It was an act of betrayal," says Kalonzo.
The betrayal was the beginning of the end to the rainbow dream, with Raila and his camp campaigning against the 2005 constitution, which ended in a humiliating defeat of Kibaki in the referendum.
The 2005 referendum gave birth to Raila's party Orange Democratic Movement (ODM) and Kalonzo's Wiper Party, then called Orange Democratic movement Kenya (ODM Kenya).
"Had Kibaki honoured it, Narc could still be in power to date," says Ajwang Agina, one of the lawyers who crafted the Kanu-NDP merger.
Agina, also a political commentator, says Kibaki could have whipped his MPs -- who were the majority in Parliament -- to push for amendments to the constitution to accommodate Raila.
But he did not and refused to endorse Raila at the end of his two terms as President in 2013.
This notwithstanding, MoUs have played a big part in Raila's political schemes.
In 2013, Raila signed an MoU with Kalonzo and Bungoma Senator Moses Wetang'ula to form the Coalition for Reforms and Democracy (CORD). Under the Mou, he was to be president for only one term and back Kalonzo -- his running mate -- in the 2017 General Election.
But with the formation of NASA this year, Raila again convinced Kalonzo, Wetang'ula and ANC's Musalia Mudavadi to back him for the top seat once again. Under the NASA MoU, he was to serve for only one term.
On formation of NASA, the CORD pact was rendered useless, leading to protests from Kamba leaders who demanded that it was only right for Raila to support Kalonzo as had been agreed in 2013.
Kuria Kanja, a political science lecturer at Maasai Mara University, says although MoUs are part of political life, honouring them is a big problem in Kenya.
Will he, won't he?
"You can keep on signing agreements after another. Honouring them, even if your goals have eluded you, is important," he says.
Patu Naikumi, a psychology lecturer, says had Kibaki honoured his part, he would have set a good precedent that would have ensured future MoUs are adhered to.
"Kibaki is to be blame for the failed implementation of MoUs," he says.
Already, there are talks that Raila is keen on vying for President again in 2022, should President Kenyatta be sworn in. This would mean that the NASA understanding will also be rendered useless.
Speaking in Kawangware, Nairobi, on Sunday, Raila said he will only quit after "delivering" Kenya from Jubilee's tyranny.
"You can be young but old in the mind. I'm old but reason like a young person," he said.
Analysts say Raila's statement that he would be in active politics for longer may rattle the Kamba and Luhya regions.
"If Raila can renege on two agreements, who will trust him in future?" says Kanja.
Lemanken Aramat, the Narok East MP (Jubilee), says Raila should honour his part of the deal and let Kalonzo try his hand in 2022.
"NASA as we all knew it, is no more. Just like CORD. He will tell Kalonzo and others that since it has changed name and he didn't participate in the repeat presidential poll, he should be in the ballot in 2022. If you can't honour agreements, how can you be trusted with the country's leadership?" says Aramat.
Resistance movement
But will Kalonzo and other leaders agree to play second fiddle a third time?
Kanja believes transforming NASA into a resistance movement might not get support from the Kamba and Luhya regions, and that only the Coast, where locals have land ownership issues, could support it.
"Transforming it to a resistance movement has killed the ideals which NASA was formed. Kalonzo, Mudavadi and Wetang'ula and their people will definitely not support it," he says.
Aaron Cheruiyot, the Kericho Senator says after being unlucky in politics, Raila should consider calling it a day and groom one of his co-principals to take over from him.
"Most of the politicians in the national scene learnt and heard of him when they had not even started school. We respect him and will continue to do so even after he has left," says Cheruiyot.
To fight drought, involve communities
According to the latest information from the Meteorological Department, rainfall will be poorly distributed in April, May and June, and this will have a serious impact on agriculture