Pokot South MP David Pkosing files petition to compel Raila to take part in October 26 repeat election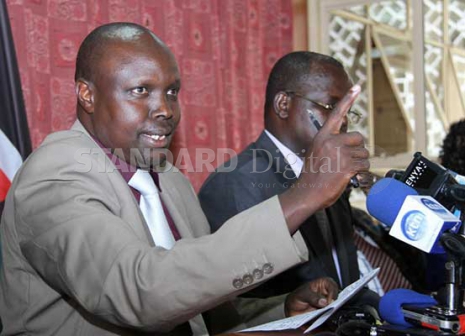 An MP has gone to court to compel National Super Alliance (NASA) presidential candidate Raila Odinga to take part in the October 26 repeat presidential election.
Pokot South MP David Pkosing argued that Raila must comply with the Supreme Court decision that ordered for a fresh presidential election and that his threats to boycott the election if certain conditions are not met will be unlawful.
Through lawyer Kibe Mungai, the MP explained that if Raila Odinga and his running mate Kalonzo Musyoka make good their threat to boycott the election, there will be a constitutional crisis that can plunge the country into uncertainty.
The MP wants a court declaration that any action by Odinga, Musyoka or any of the NASA principal to stop the repeat presidential election is an act of treason and they should be held accountable.
"Mr Odinga, being one of the candidates nominated to contest in the election is bound by the Supreme Court decision and cannot threaten to boycott the election. Any action to subvert or interfere with the elections is in contempt of the Supreme Court," said Mungai.
Mungai submitted that in practical terms, there will be no fresh presidential election as ordered by the Supreme Court unless Raila and Uhuru take part.
"The threats by NASA that fresh presidential election will not be held as scheduled may actually materialize in a significant number of constituencies and counties thereby putting Kenya's constitutional order into jeopardy," said Mungai.
He cited Article 138 of the Constitution which spells out conditions for a presidential election, and which requires the IEBC chairman to indicate the votes cast for each candidate in all the 47 Counties.