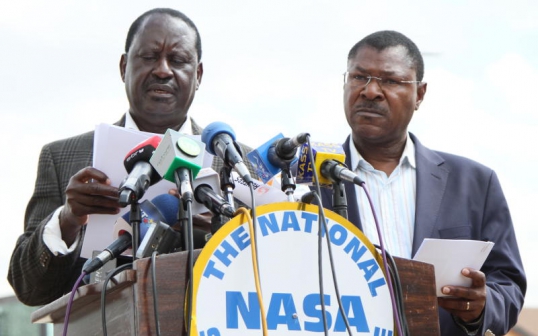 The National Super Alliance (NASA) leader Raila Odinga has raised alarm over tetanus vaccine that was administered by the Health Ministry, saying that the jab has a sterility hormone.
Raila said that the Catholic Church was right in opposing the jab which has allegedly caused infertility in women between 14 and 49 years old.
The NASA presidential candidate, who was addressing the press from Capitol Hill, said laboratory tests from various hospitals showed the vaccine had traces of a hormone that would render the recipients infertile.
Read More
"The Catholic Church was right. Hundreds of our girls aged between 14 and 49 years old will not have children because of the state sponsored sterilization project that was sold to the state as tetanus vaccination," said Raila.
Raila said this conviction was arrived at after assessing analysis from Agri Q Quest, Nairobi Hospital, University of Nairobi and Lancet Kenya, and "the results indicate that the vaccine had a high content of Better human chorionic gonadotropin hormone (hCG) that causes sterility in women."
He termed the vaccination a human rights abuse and asked the government to publish a full list those who were involved in the process.
The Catholic Church had in late 2014 launched a campaign to protest against the vaccination, citing its adverse effects on the reproductive ability women.
https://www.standardmedia.co.ke/article/2001254261/raila-odinga-tetanus-vaccination-is-a-mass-sterilization-on-women