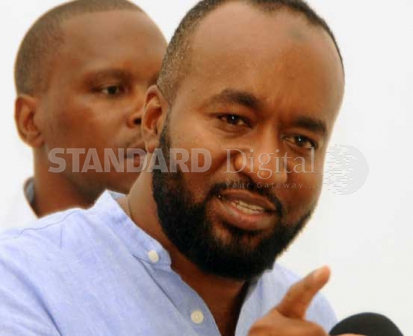 As the newly-elected governors prepare to take office at the Coast, many of the winners will have their work cut out. Not only will they be expected to provide leadership, they will have to contend with hostile county assemblies if the political outfit that sponsored them is the minority party.
Governors-elect Salim Mvurya (Kwale), Dhado Godana (Tana River) and Granton Samboja (Taita Taveta) are finding themselves in this predicament. They must now try to convince some of the ward representatives in their county assembly to support them to help them drive their agenda.
But this is not the only problem for the leaders. Samboja and his Mombasa counterpart Hassan Joho are facing cases in court where the legitimacy of their academic certificates has been challenged, while Kilifi's Amason Kingi has not been able to shake off claims of graft that hounded his first term as governor.
Read More
Hostile MCAs
Sources say Mvurya, Godana and Samboja are working at turning some opposition MCAs against their own parties as they will need to shore up their numbers in the assembly to push through their agenda.
The action of hostile MCAs dogged the running of counties during the 2013/17 period and governors were often held to ransom by ward representatives who pushed through their interests by threatening to impeach the county bosses. Often MCAs frustrated the budget-making process and vetting of the County Executive Committee (CEC) members, paralysing activities in Kwale, Lamu and Taita Taveta for many months.
To appease them, most governors caved in to the demands of the MCAs, often allowing them to make expensive but unproductive trips overseas.
Mvurya will find himself a target again because he was elected on a Jubilee Party ticket after ditching his old party ODM, even though the NASA wave swept the region. Of the county's 20 MCAs, six were elected on a Jubilee ticket, while Chama Cha Uzalendo and Kanu each have one member. The rest of the MCAs were elected on NASA-affiliate parties.
Kwale County Communication Director Kauli Mwembe said the Mvurya is determined to secure the backing of at least four opposition MCAs to raise the number of his supporters to 12 out of 20 in the assebly.
"The governor was voted in by an overwhelming majority and it will be unwise for MCAs to frustrate his development agenda," Mwembe said.
But James Dawa, the MCA-elect of Puma ward in Kinango, said Mvurya's attempts to turn ward representatives against their own parties will fail. He said an opposition majority will guarantee proper oversight of the county government.
"He will not get an easy ride to appoint his cronies to his cabinet and the chief officer like the last time," said Dawa, who was elected on an ODM ticket.
Even before Mvurya settles down for business in his second term, the ward representatives are plotting to pick his rival Sammy Ruwa as the county assembly speaker. Ruwa, the former county assembly speaker, ran against Mvurya for the governorship seat and may seek re-election.
"I am considering and consulting," said Ruwa in reaction to reports about his candidacy for speaker. Mvurya says Ruwa is being fronted by the opposition to undermine him.
In Tana River, Governor-elect Godana is also facing problems. His ODM party failed to win a single seat in the county's 15 wards, although NASA affiliate parties Ford-Kenya secured two seats while Wiper and ANC got one each. "I have spoken to all the MCAs and they understand that our first priority is to deliver for our people," said Godana.
He said his top priority will be to reconcile the region's leaders. Godana said that disunity and the failure of his predecessor Hussein Dado to hold together the county contributed to economic stagnation.
Constant warpath
In Taita Taveta, out of the 20 elected MCAs, ODM secured six seats, Jubilee four and Ford Kenya two. The Wiper Party, which sponsored governor-elect Samboja, secured three seats. Samboja has appointed former PS Philemon Mwaisaka as chief of staff. "I do not wish to start off on a wrong footing like my predecessor (John Mruttu)," he said amid reports that his rivals are rallying MCAs to undermine his admiistration.
Under Mruttu, the two arms of the county government were on a constant war footing and at some point the MCAs impeached six county executive committee members. Samboja still has personal battles over his academic certificates.
In April, the Ethics and Anti-Corruption Commission wrote to Kenyatta University to inquire whether Samboja graduated from the institution with a Bachelor of Commerce degree. In May, the university wrote back saying Samboja did not undertake such studies at the institution. The law requires that governors should have at least a basic university degree.
In Mombasa, governor-elect Hassan Joho faces a similar battle. Joho moved to court in April to stop an investigation in claims that his 1992 KCSE certificate was forged—allegations he denies. The court declined to stop the investigation.
The governor mocked those who played up his dismal academic record. "They called me a D Minus or 'Zuzusultan' and I want to tell them that I am their governor," Joho declared after he was declared winner.
His Kilifi counterpart Amason Kingi secured a majority in his county assembly but still has corruption claims to deal with. Kingi is under probe over the irregular payment of Sh51 million to Nairobi-based companies and the purchase of the 11-acre Mtwapa Bus Park and market. In July, President Uhuru Kenyatta said Kingi would be charged with corruption if he (Uhuru) was re-elected.
Kingi claims he was the whistleblower and that he has passionately followed up the matter to recover the lost money.