Leaders accuse Jubilee of planning to rig them out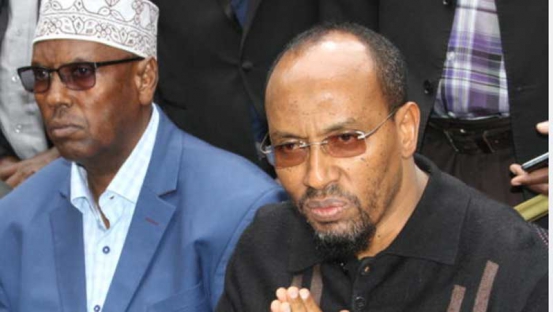 The EFP candidates claim Mandera voters have been transferred to various polling stations across the country to stop them from voting.
Economic Freedom Party (EFP) leaders in Mandera County have threatened to join the Opposition over what they term a plot by Jubilee Party ant the IEBC to rig them out.
Led by EFP Mandera governor candidate Hassan Noor, the leaders claimed that over 50,000 voters in their strongholds have been transferred to other polling stations, making it difficult for most of the voters to cast their ballot on on August 8.
Speaking in Nairobi, Noor accused JP of colluding with the Independent Electoral and Boundaries Commission (IEBC) to disenfranchise EFP leaders and give an edge to incumbents.
"EFP candidates Hassan Noor for governor, Hassan Osman for senator, woman representative, all six for National Assembly and 30 for MCA have been moved from where they registered to other polling stations across the country, making it hard for them to participate in the election," said Noor.
For instance, Noor who had registered in Rhamu in Mandera found that he is now a voter in Langata Constituency, Nairobi, while Osman has been transferred to Kileleshwa also in Nairobi. Mandera Senator Billow Kerrow, who is not defending his seat, said they were reviewing the way they were being treated by President Uhuru Kenyatta's party and will soon make a decision on their next move.
"We are keenly watching, we have options and will not allow our votes to be stolen," said Kerrow.
Voter transfer
But Noor's running mate Abass Hajir was more categorical, "We have not officially moved but were considering trashing the agreement with President Kenyatta's party and joining the National Super Alliance."
In May, Mandera Governor Ali Roba also raised similar allegations and asked IEBC and the National Intelligence Service (NIS) to look into the claims that voters were forcibly transferred to other polling stations. Roba, who is defending his seat on Jubilee ticket, accused the Garre Council of Elders of being behind the plot because they wanted to push him out.
"The truth of the matter needs to be established. Who is transferring voters? I know this is part of the plans to ensure I lose the election," he said.
In August last year, the powerful Garre Council of Elders, a group of 21 members led by chairman Ali Noor, endorsed certain leaders to vie for elective seats in Mandera County as the extension of the 2013 negotiated agreement.
The deal was that Roba and the entire Mandara leadership were not to seek re-election so that others can take up the mantle.
The EFP was formed after JP declined to give direct nominations to the aspirants endorsed by the elders.