Jubilee plots to snatch Nairobi city out of NASA grip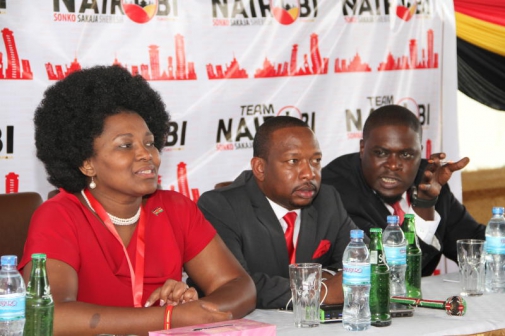 Jubilee nominees in Nairobi have crafted a strategy they believe will help wrest the administration of the country's capital from their NASA competitors.
The party nominees for all county positions met Thursday under the leadership of Senator Mike Sonko, who is seeking the gubernatorial position, and agreed on conducting joint campaigns, with a target of securing all the top positions, and at least 70 per cent of the national and county assembly positions.
And the team also appeared to target candidates who opted to join the independent bandwagon after losing in the Jubilee nominations, lobbying them to join Jubilee's "Triple S" team, with a promise of being rewarded with positions if Mr Sonko secures the governor's seat.
But the Triple S team – representing Sonko, Johnson Sakaja (Senate) and Rachel Shebesh (Woman Rep), said they would only lobby the independent candidates until Monday, after which they would enhance their campaigns against them, portraying them as opponents.
Top on their lobbying mission is former aspirant Peter Kenneth, who they asked to drop his ambition and support Sonko.
"Go talk to these independent candidates and ask them to join our efforts, you can also give us their contacts so that we try and reach out to them. We can even reimburse part of what they have spent in their campaigns," said Sonko.
"But if they do not rescind their decision by Monday, we will go full throttle and treat them as our opponents."
Sonko sent a reconciliatory message to Mr Kenneth, asking him to concede and support him, and adding that with his credentials, he can land appointment even as a Cabinet Secretary.
"It is the President who has directed that in Nairobi he wants us to vote six-piece," he added.
Sonko received a major boost after several candidates, who were initially supporting Kenneth, joined his team.
"Kenneth is a good friend of mine. Together with other candidates here, we have been supporting him, but I want to tell him that it is already too late now to try proving a point," said Waihenya Ndirangu, who is seeking to retain his Roy Sambu seat.