Will Ntimama's daughter cross finish line with political baton?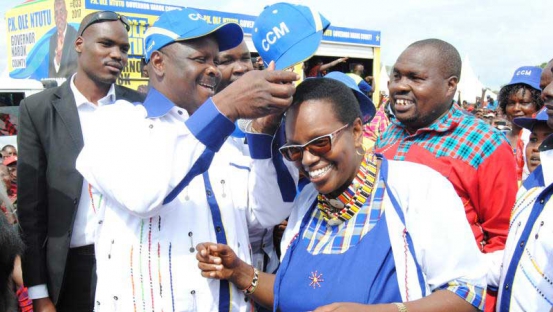 Lydia Naneu Masikonte is a perfect chip of the old block taking over from his legendary father late Cabinet Minister William ole Ntimama, who was the spokesman of the Maasai community until his demise in September last year.
Ms Naneu, 52, is the only one among her siblings who has shown interest in taking over the political mantle of Ntimama and will vie for the Narok Women Representative on Chama Cha Mashinani Party ticket.
Interestingly, she has oratory skills and deep roaring laughter like her later father.
She joined politics in 2007 when she was nominated as councillor to the defunct Narok County Council.
"I was daddy's girl and got the opportunity to learn leadership and political skills from my father who served as a Councillor and Chairman of the Narok County Council, Member of Parliament and Cabinet Minister for more than 40 years. I got a chance to learn from the best and will be readily available to serve the people of Narok County given the opportunity," said Naneu.
She contested for Narok Women Representative Seat on ODM ticket in 2013 and emerged third.
"My father had desired to retire from active politics prior to the 2013 General Election and hand over his political mantle to me since he had blessed me to take over from him, only for some elders to convince him to contest for the seat which he narrowly lost to Narok North MP Moitalel ole Kenta," said Naneu.
She disclosed that her father was her role model and she admired how he articulated issues affecting the Maasai community. Ntimama had great love for his people and fought for their rights, qualities that endeared him to many, which Naneu would like to emulate.
"The Maasai community never sat down anywhere to endorse my father as their spokesman but he earned the position through his persistent defence and championing the rights of our people. Any leader aspiring to get that position should strive to earn it and never expect to be crowned by anyone," she said.
Ntimama was among the first people in the Maasai community to acquire education. He had a sharp memory and could articulate documented issues about the community at various forums.
Naneu champions rights of women and children and co-founded a non-profit NGO, the Maasai- American Organisation which ensures bright needy girls from the community get quality education.