Same forest, different monkeys: Why voters believe all parties are alike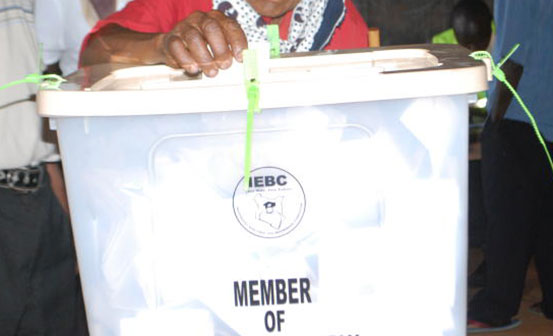 This week, the main Opposition alliance bringing together Raila Odinga, Kalonzo Musyoka, Musalia Mudavadi and Moses Wetang'ula signed a formal unity agreement, but without explicit details of who gets what position.
It was perhaps the most joyless political launch in Kenyan electoral history, a grim affair without the usual grasping and lifting of hands, no song, no smiles, just nothing.
Perhaps it was the difficulties in working out the details of the agreement that led to those long faces - particularly in determining who will be the presidential flag bearer.
The launch comes just after the close of voter registration, with "the numbers" showing that the Opposition and the government sides are neck and neck in the August 8 General Election.
But this depends on voters acting as ethnic blocs, and the blocs voting the way they 'are supposed to.'
There are six months to the election, but for the individual voter now, the weariness may be setting in – not in such a visually arresting way as those grim faces at the NASA launch, but no less real.
Perhaps you – the common mwananchi – feel like you don't have a real choice in the whole matter anyway – our political narrative is obsessed with the notion of the "tyranny of numbers", which besets people with a sense of inevitability in the outcome of the election.
This imposes a psychological burden on voters, and degrades their sense of autonomy in the whole thing. And many people cope by disengaging in one way or another – the so-called "voter apathy".
Apathy is also driven by the nagging sense that there is no difference between the government and opposition sides – they are all just pursuing their own selfish interests.
Afrobarometer, in a series of national public attitude surveys on democracy and governance in Africa, asked respondents in 12 African countries what they thought was the main difference between the ruling and opposition parties.
Bereft of ideology
African politics is usually stereotyped as bereft of ideology, as hapless voters are crudely mobilised along ethnic, religious or sectarian lines.
But the answer that received the highest response (25 per cent) in differentiating the ruling and opposition parties was "their economic and development policies", suggesting that African voters are not as clueless as you might think.
However – and some would say, worryingly – the second highest response was "there is no difference."
This would seem to confirm the view that African politics is shallow and cynical, with opposition leaders ostensibly agitating for better governance, but really only wanting to get a go at the feeding trough, to enjoy the fruits of power.
Indeed, the view that all the Opposition want to do is "eat" has been a staple of Jubilee's critique of them in the four years they have been in power.
Most recently, reacting to the NASA launch, Deputy President William Ruto said Opposition leaders are only interested in sharing non-existent positions for selfish purposes, while Jubilee's "focus" is "development".
On the other hand, it could be a good thing that voters are unable to solidly distinguish between the ruling and Opposition parties, even if it is for the depressing reason that the Opposition behaves just like the ruling party when they win.
With less of a distinction between the two, there is less of a reason to mobilise sharply along sectarian lines, and so what's actually at stake in an election is lowered.
This seems to be confirmed when we look at the countries with the highest responses for "there is no difference", or "I don't know".
They are: Lesotho, Mauritius, Benin, Cape Verde and Ghana – all of which have seen cycles of power transfer between ruling and opposition parties, and (apart from Lesotho) are all democracy star performers in Africa.
Mauritius' case is striking. Known for being a stable and vibrant democracy, and consistently topping rankings in Africa for governance, rule of law and human rights, the island nation has one of the most peculiar political histories in Africa – if not the world.
Since independence, Mauritian politics has been dominated by just three or four families, fought over and swapped between the same people over and over again, for half a century.
Musical chairs
In fact, nine of the past 10 elections has been contest between a Ramgoolam, Jugnauth, Bérenger and Duval, with coalitions formed in any combination between the four, a strange case of musical chairs that journalist James Wan describes as "so repetitive it's become spectacular, and so unpredictable it's become oddly banal again."
Benin had long-serving President Matheiu Kérékou defeated by Nicephore Songlo in 1991, only for Songlo to be defeated in turn by Kérékou five years later.
And Ghana has had several consecutive credible and peaceful elections, with transfers of power between National People's Party, led by President Nana Akufo-Addo, and the National Democratic Congress, whose candidate, incumbent John Mahama, was defeated in the 2016 poll.
The curious thing is that all these laudable transfers happen without voters actually substantively distinguishing between the ruling and Opposition parties – but they go out and vote governments in and out all the same.
It suggests there is value in the exercise of simply circulating power between one interest group and another; change brings stability to the system.
Kenya, however, is an exception in one important way – it has the highest percentage of respondents (12.7 per cent) saying that the main difference is the ethnicity of party leaders or members, among countries surveyed.
The relatively low percentage for this response suggests that first, ethnicity per se is rarely a prominent fault line in African party politics in general, contrary to popular belief. Second, Kenya is one of the few countries in Africa whose history has made ethnicity – in and of itself – as a characteristic feature of the political system.
All the same
But why is there no difference between the opposition and the government? You might have even looked on in horror as an otherwise clean, clever, competent person joins politics or gets a government job and begins to behave very uncharacteristically to their previous life – they suddenly become grovelling, sycophantic, even ludicrous. We scratch our heads and ask – "what happened?"
It has little to do with that person's individual ethics, vision or good intentions, and everything to do with the nature of how power has settled in that organisation, or more broadly speaking, in the country.
In other words – and Kenyans will be familiar with this phrase – it is "the cartels". But this opaque phrase deserves unpacking, and perhaps the best way to understand how power settles and "cartelises" is in Bruce Bueno de Mesquita and Alastair Smith's brilliant book The Dictator's Handbook: Why bad behaviour is almost always good politics.
The authors' argument is based on two premises. First is that all leaders – whether kings, presidents, CEO's, or school board chairs – are interested primarily in their own survival. No one wins a position in order to lose it.
And second, no leader - no matter how visionary or enlightened - rules alone. He or she depends on other people to execute or enforce their directives.
But whether leaders will provide the public good, do right or keep their promises depends on the number of supporters it takes to keep them there.
Backs to scratch
Dictatorships and democracies differ only insofar as the number of real supporters it takes to keep leaders in power, in other words, the actual backs that need scratching.
Successful despots keep that inner circle small, and very well paid. Especially if they have a steady stream of income, for example from gold, oil or diamonds, they can afford to ignore or even brutalise the general population as long as the inner circle remains happy.
But if your source of money, and support, is coming from a large group of people (as in a democracy), you have an interest in keeping those people alive, healthy and productive.
In that kind of political settlement, so many backs need scratching that it would be far too costly to provide private rewards to every individual member who helped to get you in power, when the benefits of public goods would be enjoyed by all. If any politician does good – say providing a good police force - the authors argue, it is almost always because the number of backs that need scratching has become too many to keep up with. In other words, are not enough private bodyguards for everyone who matters or who could mess things up for you.
Or, it is because they have run out of money. Apartheid in South Africa ended not because the white regime had suddenly developed a conscience, the authors say. It is because there was a decline in the national income, which meant that the apartheid regime did not have sufficient resources to buy the continued loyalty required to keep the people suppressed.
What does this mean for Kenya? First is that we should pay less attention to the individual political players, their speeches or rousing rhetoric, because no matter their good (or bad) intentions, if the power settlement in that office, constituency, or county remains unchanged, then the inertia is almost too great to overcome.
And second is that we should watch for signs of instability in the system, particularly financial ones. Economists are already warning that the amount of debt Kenya has racked up over the past few years is reaching unsustainable levels – we are spending 40 per cent of our revenue on debt service, up from 20 per cent four years ago.
Before 2013, interest on foreign debt was costing us less than $5 out of every $100 dollars of foreign exchange earnings. Today it is up 200 per cent to $15, and rising fast.
This is the real tyranny of numbers – they have more power to effect lasting change than any ethnic calculation.
— Christine Mungai is a journalist and executive editor of Africa data visualiser and explainer site Africapedia.com