NASA's Kalonzo and Wetangula take their campaign to Mt Kenya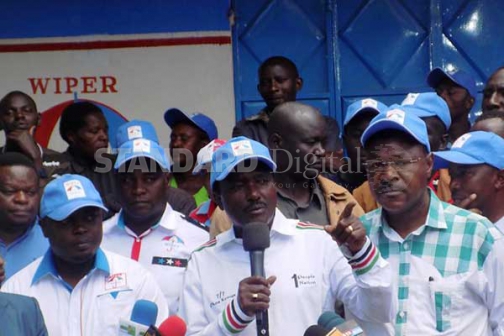 Opposition leaders Kalonzo Musyoka and Moses Wetangula says the new outfit seeking to remove Jubilee from power has nothing against Mt Kenya region.
Speaking in Embu Thursday, Kalonzo and Wetangula said the National Super Alliance (NASA) was campaigning on a platform to unite the country and get rid of negative ethnicity allegedly propagated by the Jubilee government.
Saying that they have no personal problem with President Uhuru Kenyatta and his Deputy William Ruto, the two leaders however claimed that Jubilee administration has failed the leadership test.
"I don't have a problem with my other brothers (Jubilee Government) except that their poor leadership has caused poverty, corruption and elevated negative ethnicity such that Kenya is viewed as tribal," Kalonzo said.
They appealed to residents in Mt Kenya region to join them "so that you are not left out in the wind of change that will sweep the country on August 8."
Kalonzo made a passionate call to people in the populous region to rally behind the Opposition to benefit from the basket of goodies it will proffer when it wins the elections.
The former vice president who is Wiper Democratic Movement leader told Embu people to recognise him as one of them and to back his bid for the presidency.
"While in Embu I feel that I am at home, until recently Embu town was my provincial headquarters. I have many friends from Embu including PS Cyrus Gituai that I schooled with and fellow legislators Martin Wambora, Emilio Kathuri and Lenny Kivuti.
PS Cyrus Njiru and Kithinji Kiragu are also my friends. You are all my brothers and I don't want you to left out as change sweeps the nation," he said.
Speaking after opening a party office in Embu town Thursday, Kalonzo appealed to the locals to pray for him to triumph over Wetangula, ODM leader Raila Odinga and UDF leader Musalia Mudavadi so that he flies the NASA flag as the presidential candidate in August's general election.
He said while he was the former President Mwai Kibaki's Vice President and Wetangula was the Foreign Affairs minister, the country scored greatly in service delivery and in development.
Kalonzo declared that they would visit all parts of the country to declare an end to tribalism after they defeat Jubilee in August.
He warned against rigging the election, saying that could create a lot of problems for the country.
They urged the people to refuse to play along to the tune of their leaders who they accused of propagating the perception that leaders from other parts of the country are bad.
He said they were on a mission to unite all the people as one nation pointing out that the drought and the high cost of living has affected all Kenyans equally irrespective of their political alignment.
Wetangula criticised the Jubilee Government for lording over graft, failing to combat tribalism and being unable to protect public money from looters.
He said it was for that reason that NASA was determined to prove that it is possible for the people to be united and fight the problems that bedevil the country.
"We want all Kenyans to move in the same direction. Consequently, whoever clinches the NASA ticket will be supported by others as the country transits to good governance. We are a team intent on uniting Kenyans," he said.
He said they will continue preaching peace, tolerance and democracy such that after one votes during election day they will go home to wait for results and not engage in violence.
Wetangula commended Kenyans who have voted for playing a great role in shaping the future of the country.
He said if they are defeated in free and fair polls they will concede defeat and advised Jubilee to do the same if it loses to NASA.
He said in NASA government education will be free from primary to secondary level while tertiary levels will be supported with student loans.
American HIV activist in Kenya to tackle stigma
A prominent 25 year old American HIV activist, is in the country to add her voice against the deep-seated stigma that is still impeding the fight against HIV/AIDS in Kenya and around the globe.