Uhuru Kenyatta tells off Raila Odinga over Sh38b dam plan, warns against hatred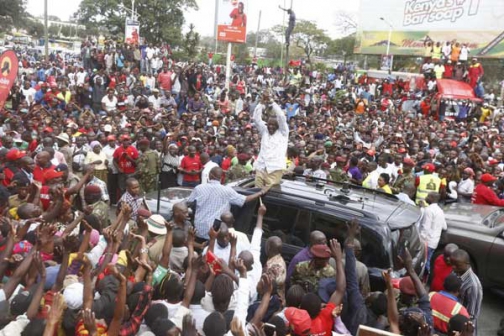 President Uhuru Kenyatta has defended the Sh38 billion Itare dam project that has caused a political storm in the South and Central Rift region.
The Head of State took a swipe at CORD leader Raila Odinga, telling him to stop politicising projects initiated by his government.
Speaking in Nakuru County yesterday where he intensified his campaign to mobilise residents to register as voters before the February 14 deadline, he dismissed the claim that the project was meant to benefit only one community and said the Opposition leader was trying to incite ethnic hatred.
Raila has been in the forefront in objecting to the project funded by the Italian Government, arguing that if completed the dam would divert water from the Mau Forest, causing some rivers to dry up.
Two weeks ago, during a National Super Alliance (NASA) rally in Bomet County, Kipsigis Council of Elders said the project will divert water from the Mau Forest, causing rivers such as Chemosit, Kipsonoi, Ndoinet and Sondu, to dry up. The elders said the project will lead to an ecological disaster.
Dismissed claims
But yesterday, President Kenyatta dismissed the claims, saying international donors would not have funded it if it had a negative impact.
"Kenyans must differentiate between development-conscious leaders and those seeking to divide them along ethnic lines and opposing everything the Government does," Uhuru said.
He was in Nakuru County, one of the Jubilee strongholds in the vote-rich Rift Valley region where he declared that the August 8 polls will be decided by youth who must register as voters.
"As young people, the future of this country lies in your hands. You must come out to register as voters so that you elect the leaders you want," Uhuru said.
He said the region still remains at the heart of Jubilee leadership, and locals must elect leaders capable of uniting communities in the region.
"Leaders who will be elected will have a chance to unite Kenyans because this is a cosmopolitan region. Our foremost responsibility is to unite Kenyans to live in peace and harmony," he said, and added that "in 2013, we pledged to unite the country to ensure that there was peace during and after the elections. I want to make my pledge to Kenyans that no matter the outcome of the elections, I will ensure they are united."
President Kenyatta, who was accompanied by local leaders including Governor Kinuthia Mbugua, County Assembly Speaker Susan Kihika, local MPs David Gikaria (Nakuru town east), Samuel Arama (Nakuru town west), Njoro's Joseph Kiuna, Jacob Macharia of Molo also addressed roadside rallies at Salgaa Kibunja, Total junction, Mau Summit, Molo town, Turi, Elburgon and Njoro.
Rongai MP Raymond Moi joined the president's entourage at Salgaa and told him the residents had waited for long for a lorry parking bay whose construction was stopped due to controversy.
Uhuru responded to the plea and said the national and county governments would revive the project.
Also in the president's entourage were various aspirants such as Lee Kinyanjui and John Mututho, Dr Peter Ketyenye Rutto (Kuresoi South) Kibet Komen (Rongai) and Wambui Mambo.
The Head of State later proceeded to Gilgil and Naivasha and completed his tour in Mai Mahiu on his way to Nairobi.
Meanwhile, Uhuru has told the Opposition to be prepared to accept the will of the people at the ballot.
He said he has no personal issues with any of the Opposition leaders plotting to unseat him, but told them to carry out their campaigns with decorum.
"I have no problem competing with Raila and his group, but let the competition be about policies and issues affecting the country and not insults and incitement," President Kenyatta said.
He said the main reason of folding his TNA party to merge with other political parties was because he pledged to unite the country when he took over power from former President Mwai Kibaki.