Jubilee killing devolution, says Raila as Kenya marks six years of new law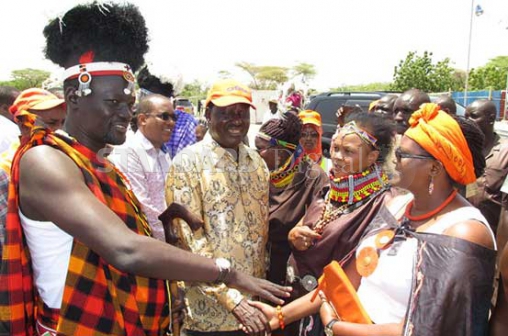 CORD leader Raila Odinga has hit out at the Jubilee administration saying devolution has not succeeded because powerful forces within the Government are against its implementation.
He said Kenyans have not fully enjoyed fruits of the devolved system of governance, even as they mark six years since promulgation of the 2010 Constitution that created devolution.
"We pressed for the Constitution that is now six years old, but there are many enemies in powerful positions in government against its full implementation. They have only thrived in giving Kenyans pledges that are not honoured," said Raila.
The former Prime Minister said the Jubilee administration promised Kenyans laptops for Standard One pupils, irrigation projects to address food security, tarmacking of roads, but said none of these has been achieved.
"All regions would have attained development if the government had implemented devolution by disbursing 45 per cent of national revenue to the counties to support devolved functions such as health, agriculture, water, among others," he said.
Raila received a rousing welcome at the Turkana Cultural and Tourism Festival at Ekales centre in Lodwar yesterday. He said the only option is for Kenyans to vote out the Jubilee administration in next year's General Election.
"Corruption is rife in the government, while some leaders fly in helicopters with bags of money for donations in harambees. These funds should instead be channelled to county governments to empower them in projects implementation," he said.
The Orange Democratic Movement (ODM) leader was accompanied by Turkana Governor Josephat Nanok, MPs John Lodepe (Turkana Central), Simba Arati (Dagoreti North), John Ndiege (Suna West), Junet Mohammed (Suna East) Aisha Jumwa (Kilifi woman representative), Gladys Waga (Homa Bay), Rachael Ameso (Kakamega) Joseph Lomwa (Isiolo North) and several MCAs.
He said marginalised regions could best benefit if the devolution was fully implemented.
"For 50 years since we attained independence, Turkana suffered marginalisation and cattle rustling due to competition for pasture and resources. Residents lived and only begged for support when hunger struck, and have endured poor road networks and schools. We pressed for devolution as the only remedy to reverse this trend," said Raila.
He noted that discoveries of oil and the vast underground water reservoir in Turkana that can supply Kenya for 70 years cannot be exploited well to benefit residents as long as leaders opposed to devolution are in government.
Raila said the government had failed to start road projects that would open up Turkana through Kitale, Kainuk, Lokichar, Lodwar, Lokichogio and Southern Sudan, forcing the regional countries to use alternative routes to transport their goods, thus denying Kenyans business opportunities.
Nanok accused high ranking officials in Jubilee of trying to sabotage his administration, but said they will fail.
"The fight I have with some Turkana leaders is a creation of top Jubilee leaders. They will not succeed because I will protect Turkana's resources," said Nanok.