Uhuru party to work with Chinese Communist Party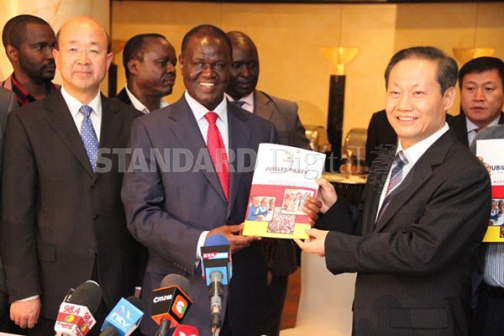 NAIROBI: Jubilee Party has entered into a working relationship with the Chinese Communist Party (CCP).
Jubilee Party Steering Committee co-chairman Kiraitu Murungi announced that the two political outfits will work together for the benefit of its members and citizens of both countries.
Kiraitu, who spoke after holding discussions with top officials of the ruling Chinese party, led by Peng Qinghua, said they will improve collaboration between the two parties once Jubilee Party is officially launched.
"China is Kenya's leading trade and development partner. They have signed several economic, social and cultural co-operation agreements with Kenya. We are happy that we are going to sign a new chapter of political co-operation," said the Meru Senator on Friday.
Kiraitu was accompanied by his co-chair Noah Wekesa and other members of the steering committee. He said the two parties share almost similar ideologies, pointing out that they are concerned with uniting people of their respective countries.
Mr Peng, the Communist Party secretary of Guangxi Zhuang autonomous region, who earlier met President Uhuru Kenyatta at State House, said the political co-operation will further deepen the ties between his country and Kenya.