Fresh battle over next IEBC chiefs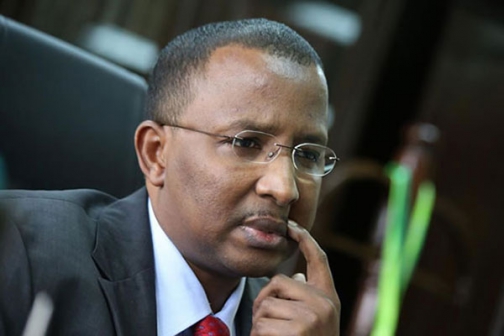 NAIROBI: The battle for selection of new Independent Electoral and Boundaries Commission has started in earnest with CORD leader Raila Odinga spelling out terms for recruitment of the team.
In an exclusive interview with The Standard on Saturday yesterday, Raila said the coalition was rooting for an Inter-Party Parliamentary Group (IPPG)-type approach where political parties get to pick the commissioners to run next year's General Election. Raila also wants the commissioners to be part-timers in line with the recommendation of the Kriegler Commission.
The CORD leader's demands are in contrast with the Jubilee position issued by National Assembly Majority Leader Aden Duale that called for a professional commission recruited by the Public Service Commission (PSC) and religious groups.
On Thursday, IEBC commissioners led by Chairman Ahmed Issack finally bowed to pressure and agreed to leave office with a send off package. Yesterday, Raila welcomed their exit but bemoaned their intransigence saying it had cost the country "unnecessary pain and agony."
"From our experience and where we are at the moment, you cannot bring another commission to recruit another commission. The IPPG commission of post-1997 was the best we have ever had as a country. It conducted flawless elections until 2007 when its mandate expired and former President Kibaki trashed it and appointed friends to run the commission."
"In our view, this is the best approach. We should not lie to ourselves that there is somebody in this country who is politically neutral. If you take the Cardinal or the Bishop or the Imam to a polling booth, he will cast a ballot. The idea that they are independent is hogwash and has no bearing with political reality," Raila said. He said political parties should be allowed to nominate commissioners, ensure that they comply with the law and then Parliament vets them for appointment by President Uhuru Kenyatta.
However, Mr Duale said Jubilee would not allow a "political process" to mar the important duty of selecting the new IEBC team.
"The Constitution under 249 (2) is clear. This process needs to be devoid of politics. What that means is that the selection panel must be people who are above parochial political inclinations," he said.
Select panel
He said Jubilee would insist that the select panel should have three members from PSC and the rest from churches and Supreme Council of Kenya Muslims. He said the ruling coalition will not support the creation of a new voters' register because this would be tedious.
"Trust me, we will steer this process away from politics," he vowed.
CORD Chief Whip Chris Wamalwa concurred with Raila that only an IPPG-type approach would restore Kenyans' faith in the electoral process. "We want to go the IPPG route where the political parties will participate identifying of the IEBC commissioners. We will insist on this," said Dr Wamalwa.
Ugunja MP and ODM director of political affairs Opiyo Wandayi said whatever form of recruitment format is agreed on, political parties must be allowed to play a role in determining who the commissioners will be. Another point of divergence between Jubilee and CORD is the number of commissioners the new team should have. While CORD is insisting on five partial commissioners, Jubilee is insisting on nine.
Raila said the crowding of the commission with many commissioners who were also full-time led to a dysfunctional commission where in-fighting was the order of the day. "Elections are only conducted once in five years and a few by-elections in between. Why would you need full-time commissioners? What are they supposed to do in-between the elections?" he posed.
He said the cramming of the commission with full-time commissioners and a secretariat led to commissioners meddling in the procurement process and scrambling for big tenders instead of focusing on elections.
"We must have a very clear separation of roles between the secretariat and the commission." He said those who blame him for "creating the commission" and for now booting it have no clue: "The question is, if you are involved in creating something and you come to realise something is wrong with it, do you live with it that way just because you created it? If you give birth to a child and he turns out a criminal, are you barred from correcting or condemning his ways merely on account that you gave birth to him?
Raila recounted the long road travelled by CORD to remove the IEBC commissioners. He said the coalition initially only wanted to improve the electoral system and assurances that certain occurrences of 2013 would not be repeated.
"They rejected our calls for dialogue. The tipping point for us was when they messed up and rejected our Okoa Kenya initiative. This confirmed our worst fears that they could not manage the elections fairly. We did not have a choice other than to resort to public protests," he said.
The joint parliamentary committee on IEBC is now set to begin the process of negotiating the finer details for the exit of Hassan's team.
"What we now have to do is the arduous task of creating a framework of exit and have the new team in office. We need to build consensus on these issues," said one member.