Ivory burning is publicity stunt by President Uhuru, says CORD leader Raila Odinga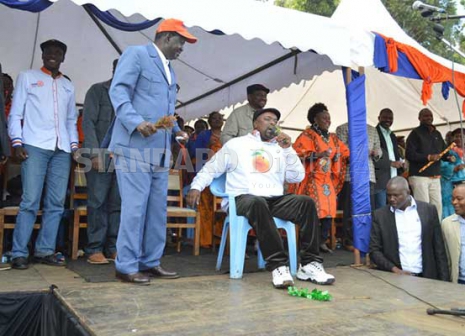 CORD leader Raila Odinga has dismissed the burning of stockpiles of ivory as a public relations exercise to please the international community while poachers and their kingpins roamed free.
He told a rally at Maili Tatu stadium in Maua town yesterday that poachers should instead be arrested.
"These people are known and they were probably just laughing as the ivory went up in flames. They are known and should be arrested and punished. We should shame them publicly instead of burning stockpiles of ivory," he said shortly after he opened an ODM office in the town.
The CORD leader then met party delegates at Maua Polytechnic.
He was accompanied by ODM's Meru pointman Mike Mutemebi, Siaya Senator James Orengo and nine MPs from his party led by TJ Kajwang.
"What is needed is poachers to be arrested and canned in public, not torching ivory," said Raila, who dismissed these actions by PresidentUhuru Kenyatta as a photo-opportunity to lure tourists to the country.
Losing key markets
The CORD leader noted that the government's action to gazette miraa as a cash crop had come too late, in response to a recent Sh1 billion grant to cushion farmers against financial hardships.
Take a quick survey and help us improve our website!
Take a survey
He noted that miraa had always been a cash crop and said that its European markets should have been protected.
Raila said he had asked governors to set up markets for miraa that could be accessed by growers.
He then announced that he had petitioned Tanzania's President John Pombe Magufuli to lift his country's ban on miraa, and shortly after some Tanzanians who had been jailed for consuming miraa were released.
In the same way, he noted, United Kingdom and the Netherlands could be persuaded to lift their ban on miraa. "We have opportunities in the military training agreement which is about to be brought to the National Assembly. Let us use this agreement to force the UK to lift the ban which has denied our farmers ready markets," he advised.
Mutembi said the Sh1 billion granted by the government would not help miraa farmers who need new markets. "The government allocated Sh1 billion. We are telling them to influence the UK and other countries to open the markets and we will be assuring the government of Sh2 billion every two weeks," he said. Mr Orengo accused the Jubilee government of abandoning miraa farmers.