CORD calls for tribunal to prosecute 2008 post-election violence suspects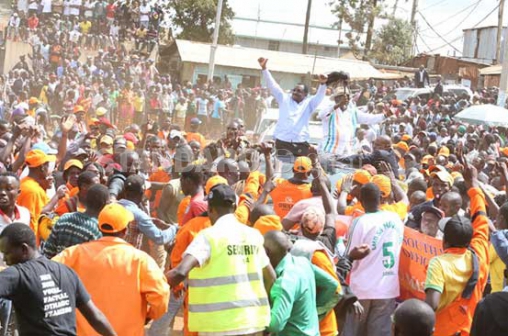 CORD leaders upped calls for compensation of victims of post-election violence and disbandment of the Independent Electoral and Boundaries Commission (IEBC) before next year's General Election.
Yesterday, speakers at a rally in Laini Saba grounds, Nairobi County accused the Jubilee administration of turning a blind eye to the plight of families who lost loved ones and the Internally Displaced Persons.
They claimed the government was paying greater attention to President Uhuru Kenyatta and his deputy William Ruto.
The CORD leaders called for the establishment of a local judicial tribunal to try post-election violence (PEV) suspects so that the matter could be dealt with once and for all. They also accused a section of the clergy of abandoning those who need their prayers most and instead "auctioning their prayers to the rich and mighty."
Sharing the dais with some of those who lost their relatives in the 2007/2008 violence, Siaya Senator James Orengo, accused the President of choosing to be with the mighty instead of the weak.
"The President has a duty to protect all citizens since Kenya belongs to all. Instead he has chosen to be with the mighty in Nakuru. But the Lord stands with the weak and the oppressed," Mr Orengo said.
He described the clergy as modern day Pharisees for "selling their prayers to those who have money."
Machakos Senator also Johnstone Muthama accused the clergy of being biased.
"Uhuru and Ruto didn't lose any relative in the 2007 violence. The two are celebrating dismissal of their cases by the International Criminal Court (ICC) while victims nurse their wounds and sleep in the cold. The bishops who are praying for them are doing so because Uhuru and Ruto take money to their churches through harambees," Mr Muthama said.
He accused Jubilee of condoning corruption and failing to compensate PEV victims. The Senator sent the gathering into silence when he welcomed some of the PEV victims to narrate their experiences.
Bernard Ndege from Homa Bay moved the crowd to tears when he narrated his ordeal. "On January 27, 2008, I lost eleven family members in Naivasha; my two wives, eight children and an unborn child who died in the mother's womb, just a week before birth," he recounted.
He claimed that no IDP from Nyanza and Western has been compensated. "We are told that IDPs from Central and Rift Valley were each given Sh400,000 and a two-acre piece of land. We also demand the same because we are Kenyans," Mr Ndege said.
Amina Mohammed, Collins Malambo and Pamela lost their relatives and have pending hospital bills.
"I lost my 18-year-old son after he spent three months in hospital. Now I have a bill of Sh158,000 to clear at Kenyatta National Hospital. I am even unable to pay my rent at Karanja estate," Ms Mohamed said.
Malambo said he has a hospital bill of Sh300,000 and appealed for help to clear it. "I am living with a bullet in my leg that has turned cancerous and I am in a lot of pain. We needn't go through this as a nation again," Malambo said.
Pamela, who has a bullet lodged in her breast, said she can't breastfeed and is forced to rely on her friends for survival.
ODM chairman John Mbadi said CORD would go to Kisii to condole a woman who lost her husband and push for her to get compensation.
"There is a woman in Borabu in Kisii who saw her husband's head being chopped off. She carried the head in a sack and ran from her attackers. We are visiting her this month to see how we can help her," Mr Mbadi said.
They leaders also announced that they will hold a rally on 26th at Kamukunji grounds in Nairobi to address issues affecting the nation.