Raila Odinga renews attack on Jubilee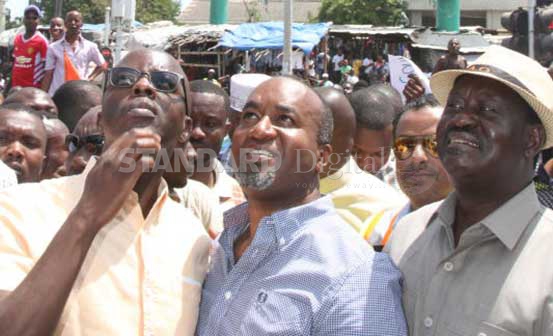 MOMBASA: ODM party leader Raila Odinga renewed his criticism of the Jubilee administration yesterday, accusing President Uhuru Kenyatta of unleashing his lieutenants to harass CORD governors.
Raila made the remarks yesterday, during his visit to Mombasa where is trying to undo gains made by Uhuru during his 29-day stay in Coast where he issued title deeds.
The ODM leader accused the President of disrespecting some governors when he visits their counties. This was in direct relevance to Mombasa Governor Hassan Joho who Uhuru ignored when he was in Mombasa.
Raila accused the President of fostering a perception during his coastal tour that development was a State favour.
"Development is a right. You people have a right to development," Raila said as he also questioned why President Kenyatta's ally Suleiman Shahbal had not been charged despite his January 2 speech in Kilifi County where he said that Jubilee will win the 2017 polls through fair and foul means; including graft.
Raila was received by CORD supporters who flocked to his functions that included the renaming of a road after his son, Fidel Odinga, who died last year.
The CORD principal claimed that Uhuru's prolonged stay at the Coast tormented local governors through harassment by his allies.
At a political rally in Makadara grounds, Raila accused the Jubilee government of failing to combat corruption, and described the Eurobond saga as the greatest heist in Kenya's history after Goldenberg and Anglo Leasing.
UNDERMINING GOVERNORS
He further accused Uhuru of resorting to using leaders aligned to Jubilee to frustrate and undermine governors critical of his government's policies and cited the recent attacks by Nairobi Senator Mike Sonko on Mr Joho at Uhuru's function in Likoni.
"There is this man called Sonko who abused the governor in front of the President. The President should have reprimanded him but he just smiled. We will not allow the President to unleash 'attack dogs' on governors when he visits CORD areas," said Raila.
Raila presided over the rechristening of Nyali Road in Mombasa to Fidel Odinga Road in honor of his late son, Fidel, amid opposition from the county's Jubilee leaders.
ODM leaders also consider the visit as a consolidation of energies by CORD in preparation for the March 7 by-election in Malindi, which Raila and Joho said ODM would win.