Members of County Assembly rally behind CORD leader Raila Odinga over Eurobond saga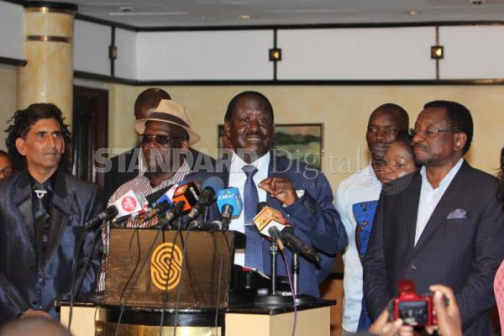 The 45 Mombasa members of county assembly (MCAs) yesterday backed CORD leader Raila Odinga's decision to defy summons by the Ethics and Anti-Corruption Commission (EACC) in the investigation of the controversial Eurobond billions.
They accused agents of the Jubilee government of treating their leader as a suspect instead of a whistleblower.
The MCAs said EACC should have instead summoned the National Treasury Cabinet Secretary Henry Rotich to explain how the Eurobond money was spent.
"We as MCAs are fully behind our party leader Rt Hon Raila Odinga and support his fight against graft," said the MCAs in a statement read by Nominated MCA Mohamed Hatimy and Port Reitz rep Fadhil Makarani.
They claimed Raila was not fighting corruption for personal gain but for the good of the country and therefore he should not be harassed by the Jubilee government but should be respected by all and sundry.
County ODM chairman Mohamed Hatimy claimed Jubilee was using the EACC to muzzle the CORD leader.