DP William Ruto outlines development projects in South Rift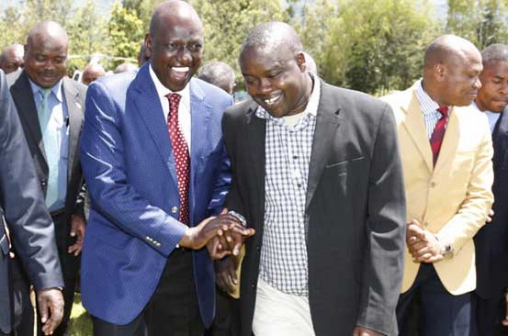 KERICHO: Deputy President William Ruto has said South Rift region has benefited immensely from the Jubilee regime.
He scoffed at critics who have accused him of going quiet ever since he was sworn in as the DP saying development projects have been initiated in the region through his influence.
"Never before has the region benefited from government projects and as many as a 100 members of ourcommunity appointed to various parastatals and boards. There are other influential government officers whom the community can run to. So when people accuse me of adopting a quiet stance, do they expect me to make noise in a government which half of it I formed?" he posed.
Speaking during a funds drive in aid of Kipkelion West Women Empowerment Organisation at Chilchila Secondary School in Kericho County, yesterday, the DP also asked commercial banks to lower loans interest rates to enable investors to boost the country's economy.
"Every financial institution including the banks must understand that it's better to have a bigger base of customers on the basis of low interest rates than to have a few customers who pay very high interest rates," said Ruto. At the same time, Ruto defended the Jubilee coalition saying the country cannot move forward when it is divided into small political parties.
The DP also presided over the official opening of Teretab Moita Technical institute in Bureti.
Ruto disclosed that in partnership with Poland, they county will receive 35 milk cooling plants worth Sh380 million.
He assured that medical equipment worth Sh805 million would be delivered to the county in March 2016. He announced that the government will launch construction of roads in the county listed in the annuity programme in January.
Kenya set for investors' conference next week
Kenya is expecting thousands of investors next week for the second edition of the annual Kenya International Investment Conference, KIICO as the country shrugs off a sluggish year worsened by high interest rates and currency shocks.