Kabando wa Kabando: Let's support Uhuru in graft war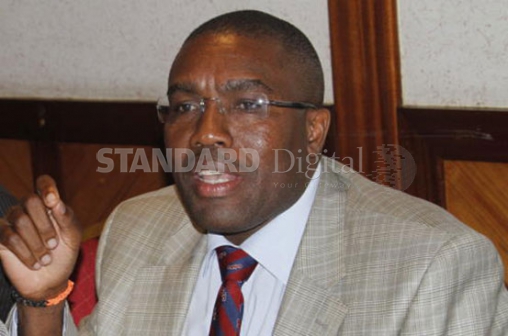 Amid the raging debate on misuse of public funds, Mukurwe-ini MP Kabando wa Kabando (pictured) has been vocal calling for President Uhuru Kenyatta to crack the whip. He talks to The Standard on Sunday's GATHENYA NJARAMBA, and here are excerpts:
QUESTION. What should be done to curb rising corruption and impunity in Government?
ANSWER. Simply exert public pressure and upscale parliamentary oversights against mercenaries of sleaze. We should also punish heavily the culprits starting with the so-called 'big fish'. We must also strengthen the EACC and office of the DPP. I believe the President can end it in a week if he gets the necessary urge and support. Presently, his best friends and allies aren't those puppeteers. We, who are belling the cat and telling him it's burning in there, out here, are his true comrades. I am ready to lose my seat in pursuit of this doctrine.
Q. Why are you adamant that Devolution Cabinet Secretary Anne Waiguru should step down in the wake of misappropriation of funds in her ministry?
A. It is simple. It is not for me to judge if she is guilty or not but for the sake of the wider national interest, she should step aside to give the President space and latitude to focus on leading the government. I have no doubt she will be vindicated if not guilty. To quote Buddha- there are three things that cannot be hidden, the sun, the moon and the truth. I am sure, given the central role her ministry plays, and as the captain of her ship, she wants her ship to sail in safety and confidence. Currently, it is in turbulence and it needs space to find its balance. It is a sign of honour and a call that requires courage. And that call is for her to step aside.
Q. Are the agencies mandated to fight corruption doing their work properly?
A. DPP Keriako Tobiko is really trying amid the rickety scenarios. Though CJ Justice Mutunga is a conscious steward, the Judiciary frames are not matching our expectations. Stories of rent-seeking can't be all far fetched. We should fortify the DPP's prosecution capacities, smoke out ravenous judges and overhaul the EACC. The structures under our current Constitution are weak to effectively tame graft.
Q. Recently, you talked of some emissaries sent to you by powerful individuals on your outspokenness against graft. Don't you fear for your political survival?
A. Actually nobody was sent, only claimed to have been. I speak with the President often. They're hypocrites and lackeys of gluttony. Fear what? Is political survival better than survival of a nation? Of course they're fighting me for being me, but they will flop. These are proxies of merchants of graft. They are the real enemies of public good. What have I said that is wrong? Our President will soon offload excess luggage.
Q. Are corruption cartels fighting back President Uhuru Kenyatta's steps to curb theft of public resources?
A. I am well connected. I know the graft mafia will fight, scandalise and even kill to survive. They've done it before. They're doing it now. President Uhuru Kenyatta is being sabotaged by a ruinous ring of thieves. But he'll crush them. That I know, the President is beyond reproach. Once he gets the proper brief - and this effort is ongoing - of how bad things are, he will crack the whip. We will remain steadfast. Kenyans should refuse to be cornered into mono-ethnic fiefdoms on corruption matters.
Q. In your own view, is CORD providing viable alternatives to the challenges facing the country, for instance, on governance and the economy?
A. CORD is limping, swaggering, and at best stammering. CORD controls 24 of 47 counties. What difference have they shown? Nil! What is their economic agenda? None. Theirs is just consumerist, not productive economics; protests rather than alternative peaceful vision for Kenya. Their mismanagement of internal party politics is a testimony of violence and intolerance.
Q. Do you think corruption will be a major talking point in the 2017 elections?
A. Yes. 2017 will be about what we have done with the economy. I see Kenyans rising against perpetrators of corruption without reference to party or ethnicity. And it should happen. That is why I've been asking that whoever is diverting the President's focus to step aside, even if momentarily, because their presence is fouling public mood against Kenyatta's reign.
Q. Do you think time is ripe for a referendum? What burning questions should be put up in such a referendum?
A. Yes, but only if it is bipartisan. This one of CORD is narrow minded and driven by self-interest to make them relevant. We should scrap and/or harmonise overlapping and expensive commissions. We should also scrap nominated seats in the National and County Assemblies. I believe Senate should be empowered to better oversight devolution. We should also ban harambees by public servants - even the church is culpable here - to avoid corruption shaping electoral leadership. I wish CORD or even Jubilee listened to Kenyans first because the one thing which should be in the referendum is reduction of elective posts by over 60 per cent.
Q. Finally, what is your take on the recent arrest and summons to journalists covering Parliament by CID officers?
A. It is absurd, ridiculous and obnoxious to attempt to return us to the draconian and autocratic ways of the past. It can't and won't happen. I however, believe our media should exercise restraint on matters security. Given vulnerability of our country to terror, national security matters shouldn't be negotiable. That was a misguided move by police.