Leaders say Kenya's National Assembly Bill unconstitutional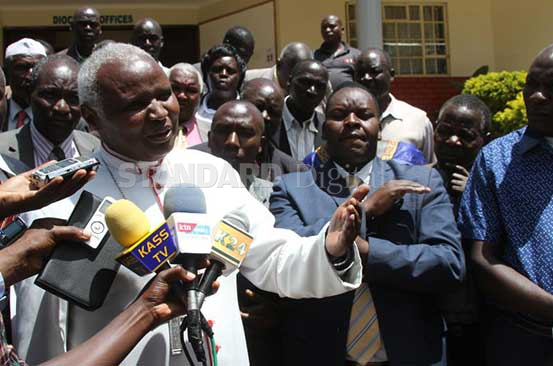 Leaders Friday joined calls of Kenyans who have asked the National Assembly to drop draconian laws that seek to gag the media.
The Commission for Implementation of the Constitution (CIC) has written to the clerk of National Assembly, Mr Justin Bundi, raising concern about the Parliamentary Powers and Privileges Bill.
CIC said the Bill contains clauses that "unduly interfere with the rights of citizens or gives MPs privileges and immunities that are not justifiable in law."
"Clause 26 and 27 offend the constitutional rights of freedom of the media and of speech," reads part of the letter signed by CIC Vice chairperson Elizabeth Muli.
Tharaka Nithi Governor Samuel Ragwa also took issue with the proposed law and urged MPs to allow themselves to be scrutinised because they hold public office.
"I know you (media) have been very active in following up on county governments. When you criticise the county for misusing funds also do the same to the National Assembly," said Mr Ragwa during a press conference on preparations for an investment conference in Tharaka Nithi from November 26 to 29.
Transparency International-Kenya Executive Director Samuel Kimeu yesterday criticised the National Assembly for attempting to use its legislative powers to deny Kenyans their constitutional rights.
"MPs are state officials elected to serve their constituents by representing them. Their work ought to be open to scrutiny and they should therefore serve within the confines of the law," said Mr Kimeu.
Contributing to the debate Gem MP Jakoyo Midiwo said legislators should not seek to shield themselves from public scrutiny
"We read mischief in laws which seeks to shield members of the Parliamentary Service Commission when they breach sections of the law," Midiwo said.
These calls were supported by Eldoret Diocese Bishop Cornelius Korir who observed the media must be allowed to conduct their work without interference.
Addressing journalists at Sacred Heart Cathedral in Eldoret yesterday, Bishop Korir asked MPs to focus on legislation that would improve the lives of Kenyans.
"The media must be allowed to exercise their role of emancipating the public and passing draconian bills will curtail media freedom and must be avoided if this country is to move forward," said Korir, a former chairman of the Kenya Episcopal Conference.
"The effect of the proposed law is to shield rogue MPs from public scrutiny, deny citizens a constitutional right to demand accountability of their elected leaders and limit media freedom."
Friday, the Cabinet Secretary of Information Fred Matiang'i reiterated the government's position.
Dr Matiang'i said this position was "clearly communicated to Kenyans" by National Assembly Majority Leader Aden Duale and Kigumo MP Jamleck Kamau.
"The Government never supported these clauses. The Majority Leader was very categorical when the debate was going on. Mr Duale and Mr Kamau speak for the Government. They are the avenue through which we communicate to Parliament," said Matiang'i.
The Cabinet Secretary said the Government "was determined to uphold press freedom and we would not do anything to jeopardise that."