CORD leader Raila Odinga's key allies restless in ODM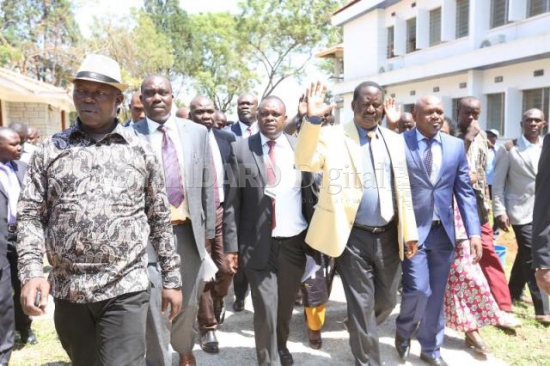 Raila Odinga's Orange Democratic Movement (ODM) party is gearing up for radical changes within its leadership structure, including re-examining its engagement within the Coalition for Reforms and Democracy (CORD).
Multiple sources within ODM told The Standard on Sunday that party operatives are concerned about its dwindling political fortunes at the expense of popularising an "amorphous Opposition outfit."
And as the party holds a retreat from next Sunday, it will be crunch time for officials as they deliberate on how to relate with other key CORD member parties – former Vice President Kalonzo Musyoka's Wiper party and Senate Minority Leader Moses Wetangula's Ford-Kenya.
There are quiet protests within ODM over the political zoning for CORD member parties. Among the mappings highly disputed by Orange politicians, for instance, is assumption that Western region, where co-principal Wetang'ula hails from, is a Ford-Kenya zone.
Orange party enthusiasts also point at pockets of supporters in Ukambani region, whose activities have been drowned by those of CORD's "official representative in that region" – Wiper.
There are fears the former Prime Minister's party has been plunged into internal political suffocation, where it cannot freely spread its wings within the Opposition strongholds. Pushed to the wall by some key allies, Raila's biggest challenge now is whether or not to severe links, Kalonzo and Wetang'ula, and soldier on independently.
Confronted by The Standard on Sunday over this and other related issues, the Orange party leader promised to respond later.
However, by the time of going to press he had not done so. His spokesman, Dennis Onyango, attributed this to the former PM's busy schedule in Nyanza.
Similarly, ODM's top officials, Ababu Namwamba (Secretary General) and Junet Muhammed (Director of Elections), were evasive when asked about the Orange party's possibility of disengaging from CORD.
Nonetheless, Junet, who is Suna East MP, confessed that hard and painful decisions about the party's future would be made at the retreat.
Adds Namwamba: "From where I sit as ODM's spokesman, I appreciate the great value that our partners bring to the Opposition. However, we shall not allow the existence of CORD to be a threat to our party or even vanquish our profile."
Noting that other parties, including those within CORD, have been "trying to gain political entry into our territory," the Budalang'i MP vows that ODM will jealously protect its interests.
"For the Orange politicians in western Kenya, who have been complaining of diminished visibility, I want to assure them that they will be seeing a higher profile of ODM as has been the case before," promises the Orange party spokesman.
The internal turf wars within CORD and apparent threat by ODM to stand alone, has taken partners by surprise. Ford-Kenya Secretary General Simiyu Eseli, absolves his party boss, Wetang'ula, from claims of taking over and treating western region as a Ford-Kenya zone.
"This is just a perception that Ford-Kenya is running over ODM in the region. The only one thing that the senator has been doing is to keep the region under the CORD family and if that is offensive to ODM, then I am sorry we have no apologies to make," says Dr Eseli.
And Wiper-allied Machakos County Senator, Johnstone Muthama, who is also Senate Minority Whip, is deeply saddened by the timing of the latest development.
"We hope these are just views of a few divisive individuals and they will not carry the day during the ODM retreat, which incidentally comes up at a time when we are planning to make a major statement at a joint CORD press conference," reacts Mr Muthama, who alongside Siaya County Senator, James Orengo, serve as co-chairman of the CORD management team.
Curiously, pollsters have lately posted ODM's popularity way above that of CORD. The latest one on parties' popularity conducted by Ipsos Synovate between March 28 and April 7, indicated that the party was in fact more popular than CORD.
But unlike the odd situation in CORD, the 1,964 respondents across the country posted Jubilee Alliance Party as a more popular outfit among parties affiliated to President Uhuru Kenyatta.
Within CORD, however, Wiper party is second on popularity to ODM, followed by Ford-Kenya. But the Kalonzo and Wetang'ula parties are less popular than CORD.
"There is no denying that the harmonious relations among CORD members parties has solidified the Opposition, but these statistics are also telling us something and maybe we should not ignore such indicators," observes Namwamba. But Muthama maintains the harmonious relations must go on if the Opposition hopes to form the next government: "Those engineering ODM, Wiper or Ford-Kenya to go their separate ways are selfish politicians whose interest is purely personal. Neither, Raila, Kalonzo nor Wetang'ula can win the presidency on their own."
However, the argument by Namwamba and a host of insiders, most who are afraid to contradict Raila who is a fervent backer of the coalition, is that the parties should be allowed to strengthen themselves independently ahead of 2017.
On this account, the Ford-Kenya Secretary General also concedes that performance of the Opposition – especially in Parliament – has been partly impeded by the current coalition arrangement that sometimes requires the three co-principals to be consulted.
The ODM retreat might be a week a away but the heat it is generating is already too much. Among the crucial issues at table are the political future of the party and its leader, relations with CORD partner members and party leadership positions and roles.
"I do not want to pre-empt what we shall discuss, otherwise there would be no need for the retreat. But I can assure you it will be hot. This is the meeting where chaff shall be separated from the wheat," says Junet.
But Muthama has some piece of advice for the Orange colleagues: "There is only one magnet that can unite Kenyans, and it revolves around Raila, Kalonzo and Wetang'ula. As senior brothers in the coalition, watch your steps carefully because in the next few days you can either give Kenyans hope or handover Jubilee an automatic second term in power."
And speaking in Nairobi, Nyatike MP Omondi Anyanga said the strength of CORD would be compromised should affiliate parties part ways.
"The parties should conduct their internal affairs independently but should retain their coalition arrangement for purposes of winning the 2017 elections," he said.