Tracing gallant Uhuru Park Freedom Corner heroines, 20 years later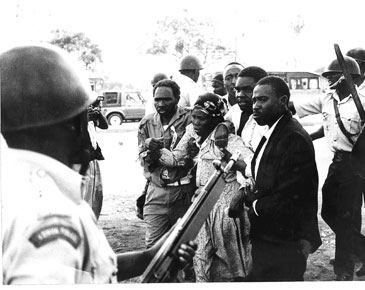 The distressed mother of Koigi wa Wamwere helped away by sympathisers as armed police close in. [PHOTOS: FILE/STANDARD]
By LILLIAN ALUANGA-DELVAUX
Kenya: It has been almost 20 years since the mysterious death of Karimi Nduthu and the tears from his mother's eyes haven't stopped flowing.
For Veronicah Wambui Nduthu, any conversation about her son, Karimi, springs a well of emotions that sums up her life in the past two decades lived quietly away from the limelight she was thrust into in the 1990's.
Karimi's involvement in politics, as an Engineering student at the University of Nairobi, proved to be his undoing as he, like dozens other political detainees in the 1980's and 90's, quickly became 'enemies of the State'.
But it was his open push for the release of former student leader Titus Adungosi that firmly put him on the radar of security agents, spiraling into a series of events that eventually led to his arrest in 1986.
It was Karimi's detention and that of about 50 others that pushed his mother and a group of about eight other women into a search for justice. That was in 1992.
The women, mostly aged between 50 and 80 years old, hatched a simple yet daring plan to catch the attention of the Kanu regime; they would camp in a corner of Uhuru Park and refuse to eat or drink anything until their sons were released from prison.
Register frustration
For days the women prayed, sang and received those that came to show solidarity with their cause.
But it was the day that a baton wielding contingent of anti riot police were unleashed on the elderly women that drew international attention to their cause, and earned the unarmed and defenseless group a place in history.
To register their frustration and utmost displeasure with their sons' incarceration, the women, stripped; an action deemed a curse in the African culture.
"Some people thought the women were wrong but many others supported them," says Elizabeth Wanjiru Matenjwa, mother in law to former Nyeri Town MP Wanyiri Kihoro.
The former legislator was among those detained for political reasons in the 1980's.
While she recalls those who were at Uhuru Park, Matenjwa,77, also acknowledges others who could not make it to Nairobi but supported the push for the release of political prisoners nonetheless.
Among them were Marcella Ojuka, Margaret Opiata, Joyce Wafula, and Beldinah Ojwang; mothers to Paddy Onyango, Odindo Opiata, Wafula Buke and Apiny Adhiambo among many other wives and sisters of detainees that camped at Freedom Corner. At some point others like Rael Kitur, mother to Tirop Kitur also joined the group. Many of these women have since died.
Today, two decades later, the original group that pitched camp at Uhuru Park has shrunk, as have the hopes and aspirations many once held. Among those in the initial group that are now deceased are Gladys Thitu Kariuki, mother to former assistant minister Mirugi Kariuki and Milka Wanjiku, mother to Rumba Kinuthia.
Those still alive are mostly frail and sickly but still exhibit the resilience that saw them take on the Kanu regime.
In the years following the release of their husbands and sons the women went back to their homes and to futures that bore different fates.
For Matenjwa, life would deal another blow in later years with the death of her daughter Dr Wanjiru Kihoro after being in a coma for several years due to injuries sustained in a plane crash.
Mirugi's mother, Gladys Thitu would in 2006 live through the pain of losing her son in a plane crash that also claimed the lives of other government officers.
But for others like Wanjiku, fate, it appears dealt a kinder hand, with the High court awarding her and daughter Margaret Wangui millions in compensation for gross violation of their human rights during their arrests at the height of the crackdown on perceived dissidents.
"It was difficult to bring everyone together in the years after we left Uhuru Park because people were scattered in different parts of the country. But there were few occasions when we met," says Nduthu.
About four years after his release in 1992, Nduthu's son, Karimi was killed in his house in Nairobi in unclear circumstances.
"The police told us it was a normal case of robbery, but we have never believed it because nothing was stolen from his house," says Nduthu.
At her home in Kilimambogo, a few kilometres from Thika town Nduthu, a portly, jovial woman in her 70's, talks fondly of her son and the Uhuru Park protest.
A framed newspaper cutting of Nduthu's quest for justice highlighted by a local daily, dated 1996, hangs on one of the walls.
She breaks into laughter often as she moves around the compound tending to her farm but there is only one thing she desires most.
Promised justice
"I want to know who killed my son and what wrong he had committed to deserve it," she says.
But she too appears to know those answers may not come anytime soon.
"We have left everything in God's hands because everybody seems to have forgotten about us. We have been to several government offices where we have been promised justice for Karimi but so far there is nothing to show," she says.
Nduthu says she has no regrets over the days spent at Uhuru Park and the All Saints Cathedral bunker, and harbours no grudges towards security agents that tormented her family for years.
"We habour no ill feelings towards anyone because we were fighting for a greater cause to improve the democratic space in this country that our children and future generations could enjoy," she says.
She weeps as she recalls the death of her son and travails the family went through over the years.
Besides Karimi's brushes with the law, threats and constant police raids on the home, the family was forced to abandon their four-acre farm in Molo at the height of ethnic clashes that rocked Rift Valley in 1992.
To date, Nduthu is unsure of what the family should do with the land that holds a special place in her heart because it is where her son is buried.
She brightens as she talks of dreams of having Karimi included in the roll of honour at Heroes Corner in Nairobi's Uhuru Gardens.
Distant memories l feelings
"When they finally decide who should be there, I would like them to remember my son because the freedom he fought for is now being enjoyed by others," says Nduthu.
Somewhere deep in the heart of Kahawa West on the outskirts of the city, Ruth Wangari Wakaba struggles to sit upright on her bed inside a small iron sheet structure with two sofa sets.
She has trouble with her legs and painfully shuffles from the bed to one of the sofas to have her picture taken.At over 80 years old, Wakaba still has a good memory of events at Freedom Corner and the All Saints Cathedral church bunker, where the women were at one time holed up for several days, surrounded by police.
She recalls the women's resolve not to abandon the protest until all political detainees were released and the strength they drew from each other in those strenuous times.
Wakaba's son, Thungu, had been arrested on allegations of having been involved in the 1982-aborted coup.
Wakaba talks of how the group's original plan to stage the protest at Kamiti prison was changed in favour of the Uhuru Park venue and the support the women got from the late Nobel laureate Prof Wangari Maathai, Njeri Kabeberi, as well as a visit by former Gichugu MP Martha Karua.
"We knew we had to do something to get the government's attention and secure our children's release. I remember Martha Karua fighting her way past the police to find out if we were alright," she says.
But these are distant memories now, and Wakaba, like the other surviving members of the group, retreated to a quiet life that saw many of the second liberation heroines struggle to make ends meet.
"We were forgotten," she simply says, cradling a printed copy of former Internal security assistant minister Mirugi Kariuki's obituary.
"He (Kariuki) built me this house but death took him away too soon," she says.