What MPs considered in accepting Salaries and Remuneration Commission's pay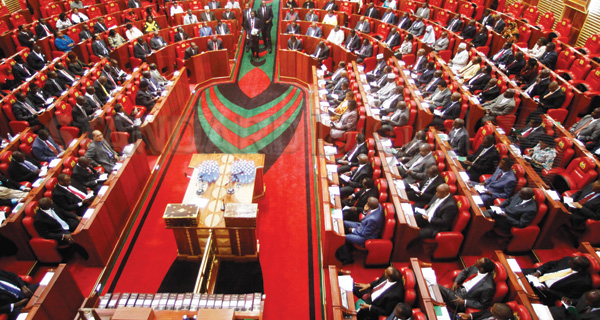 SRC and MPs on Monday struck a deal to pay the legislators Sh532,500[Photo:File/Standard]
By Luke Anami
Kenya: Details of a meeting that led to Members of Parliament abandoning their crusade for more pay have emerged.
The meeting held between the Salaries and Remuneration Commission (SRC) and the Parliamentary Service Commission (PSC) at the Deputy President William Ruto's Karen's residence resolved to retain the salaries for an MP at Sh532,500 after SRC explained that the process of setting a new pay for state jobs can not be altered arbitrarily.
The 416 MPs (349 members of the National Assembly and 67 Senators) will be paid a taxable income of Sh532,500 per month as previously set by SRC. This amount will rise by Sh44,375 every year, increasing an MP's salary to Sh710,000 by the fifth year.
SRC gave in to PSC demands that will see MPs draw unlimited sitting allowances other than those set earlier by the Commission.
In a gave and take spirit, the MPs agreed to drop their demands for a car grant at Sh7 million and opted for Sh5 million car grant that the SRC had earlier set.
Besides the grant, they will also be entitled to an optional car loan facility of up to Sh7 million. Further, they will stick to a pension scheme that was earlier set by the last parliament.
A new pay structure for all state jobs will be carried out comprehensively at a later stage perhaps, after SRC has revised pay for all civil servants, an exercise it has already embarked on.
"We finally met with the PSC at a meeting that was facilitated by the Deputy President," SRC Chairperson Sarah Serem said in an interview with The Standard.
"As much us we met at his residence, he did not chair but rather his role was facilitative, and which made it possible to dialogue."
She disclosed that it was the first time SRC was granted an opportunity to explain to the MPs the process that eventually fixed MPs pay at Sh532,500 per month from Sh850,000 that the 10th Parliament enjoyed.
"PSC acknowledged that SRC has the mandate to set and review the remuneration and benefits for all state officers," she said adding: "Our pay settings are based on a framework which cannot be faulted. Until we undertake another study, we cannot justify changing pay for state officers."
Across the world
Based on this, PSC agreed to have their members take the salaries as set by SRC and allow the Commission to undertake a further benchmark study to determine remuneration and benefits payable to similar institutions across the world.
"Adjusting pay for an MP implies adjusting or reducing pay for the President and other state job holders as the method is scientifically arrived at. But SRC is open to dialogue and any proposals for a change in pay for MPs are welcome," explained Serem.
She added that the meeting gave them an opportunity to explain to the legislators how their pay was arrived at, something which the Commission has never had an opportunity to do.