Muthoni wa Kirima's last stand an act of moral rearmament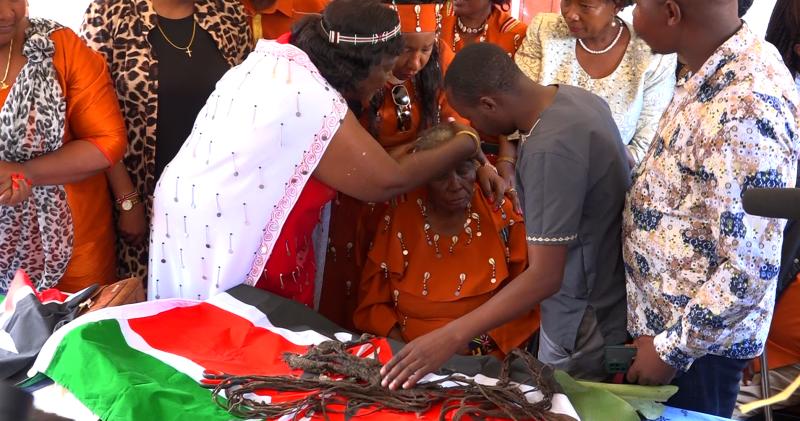 It seems preposterous to be seized by a matter of one woman's hair when there are more pressing issues of the day. For instance, men and women are walking around town carrying jerricans, looking for fuel to power their vehicles.
But when the woman in question is the irreverent Field Marshall Muthoni wa Kirima, the heroine of the Mau Mau struggle whose hair remained uncut for 70 straight years — an enduring symbol of resistance against oppression — and her barber is the founding First Lady of the nation, Mama Ngina Kenyatta, this is a neat confluence of confounding conundrums.
Well, well, let's stop kizungu mingi and unpack the meaning of this symbolic ritual. After all, the Mau Mau choreographed a war drawing on rituals that bind our people. And because ours is a land of limitless possibilities, it is emerging that Mama Ngina was a closeted freedom fighter who once shared a prison with the original mother of the nation, Muthoni.
The site of this burgeoning, if unlikely friendship between a freedom fighter who lived in grinding poverty most of her life and the founding First Lady, a fabulously wealthy woman and a regular Forbes listee — as one of the continent's richest women— reportedly met in Kamiti Maximum Security Prisons.
A senior Superintendent at the facility chuckled: "Ninyi watu wa magazeti, you simply amaze me! Are you talking of the visitors' book that's signed by distinguished guests, or a list of inmates?"
A historian at the University of Nairobi countered this dismissal with a compelling claim of his own: "All too often, there is a preponderance to think of history in linear terms. It is true both women's footprints did intersect in the forest, where Muthoni hid through her years with the Mau Mau in the 1950s; Mama Ngina reportedly made forest forays in the 70s, but the liberation struggle was over."
Misreading its meaning
On the cutting off of Muthoni's dreadlocks by the founding First Lady, the historian Kenyans are misreading its meaning: "There is a multiplicity of things. First off, at 92, Muthoni is readying herself for the life beyond. She summons one of the powerful women in the land. She knows Ngina's very presence will shift attention to the promises of independence that were traded away by the elite that Ngina embodies."
He went on: "The summon also subverts social hierarchy and performs an act of mock heroism. She knows Kenyans will ponder where Mama Ngina had been for the past 70 years. I see this as Muthoni's last stand. It's an act of moral rearmament."
The don concluded: "The life and work of Muthoni Kirima is premised on disguising her true intents. That's how she survived as a spy for the Mau Mau. So, this is not acquiescence of an elderly woman; it is a suave act of subterfuge."
Pressed to explain what he made of the tufts of hair being stored in a kiondo, perhaps for exhibition in museum, the historian scoffed: "This country is full of upumbavu. Now that Muthoni's comrade-at-arms recently launched a university in her name, a fitting gift would be a Muthoni Kirima Institute of History and Women Studies. That will memorialise the gallant woman and the liberation struggle. But if historical erasure is the intent, then the process is off to a roaring start…"
The historian said such erasure is unlikely: "Mau Mau has evolved from a physical experience, limited to a geographic space, to an idea. It is raging on right now on the blogosphere. It is the spirit of resistance against oppression in all its manifestations. Muthoni's heritage is now in our hands."