'Tusidanganyane,' Ma-Dvd pleads, as he serves up litany of own lies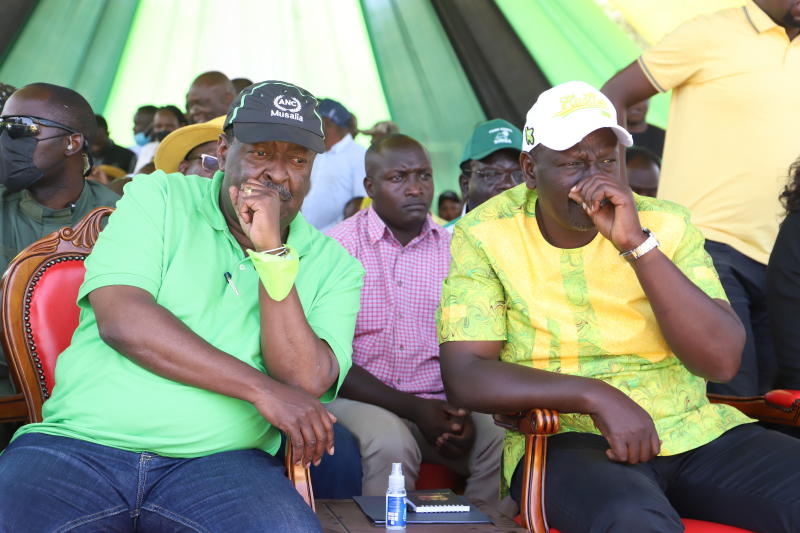 It is a considerable stretch for anyone to purport to manufacture an earthquake with their bare hands, but that's what Musalia Mudavadi, also known as Ma-Dvd, sought out to do last weekend.
His tools of trade: a sheaf of paper that he shuffled listlessly, reading joylessly, at times swallowing words, in place of water that he so badly needed. He finally had a bottle of water delivered to him.
The place was Bomas of Kenya, incidentally, a site of kinyang'anyiro (contestation) every five years, when the nation's next President is picked after all (or some) of the ballots are tallied. Ma-Dvd was here to announce, with little conviction, that he would be on the ballot as a presidential candidate.
That vital piece of information was glossed over in a second, before returning to his leitmotif: "Tusidanganyane!" Ma-Dvd declared, cheeks puffed like a saxophonist's.
"Tusinganyane!" is a simple plea. It means, let's not lie to another, although he did not specify what led him to develop such cynicism about politicians, even though he remains one.
We know there was a time somebody led Ma-Dvd down the garden path, near some famous park in the city, when he was promised they would back his presidential run. The same unnamed individuals, it appears, have been urging Ma-Dvd to steer clear of the presidential polls. "Wanatupimia hata hewa," Ma-Dvd squeaked, and when the assembled crowd appeared to enjoy that particular line, he excitedly offered to repeat.
Poor guy, his quest for the presidency includes entertaining masses!
"Tudanganyane" Ma-Dvd went on, decrying what he called a "deficit of trust," and the practice of politics driven by "lies, deceit and betrayal." In the spirit of those high-sounding ideals, Ma-Dvd invoked the American statesman, Abraham Lincoln, not once, not twice, but many times, raising doubts if he was addressing the right audience.
After all, Kenyans face such serious issues every day, they have just enough strength to endure Ma-Dvd's hee-haws and his exhortation: "nasa huyo!" meaning catch him. That's what Ma-Dvd did in the last polls, but he has since moved on. His memory is so rusty, he even claimed the early 1990s Kenya was his halcyon. Then, we know the country was going through an economic meltdown, when a thieving cabal domiciled in the Treasury orchestrated mass looting, climaxing with the printing of cash that triggered unprecedented inflation. Well, Ma-Dvd might have been too young to remember, only that he was the Finance Minister of the Republic of Kenya, between 1993 and 1997!
Perhaps he long cast that bad memory to what Kenyans call, kaburi la sahau (grave of the forgotten). "Tusidanganyane!" Ma-Dvd went on, spelling out his presidential vision embodied in the mantra, uchumi bora, pesa mfukoni, although he did not specify how that would be achieved, except for picking friends carefully.
All he was willing to admit, however, was the sort of friends he wasn't interested in keeping, singling out the "spectre of Azimio."
The rest of the story was narrated in pictures, with Ma-Dvd and Deputy Prezzo Man Ruto photographed at the VIP dais, in stitches.
It wasn't clear who was laughing at whom. Or, more precisely, who was considering the other a source of comic relief.
Perhaps they were laughing at the failed spectre of a long-promised "earthquake," which was delivered in Ruto's feeble walk into Bomas, and a prologue for a sequel to his favourite song, "Tusidanganyane!"
Ending flight ban good
The lifting of the ban on flights from Kenya to United Arabs Emirates (UAE) and vice versa is a welcome relief for residents of both countries.