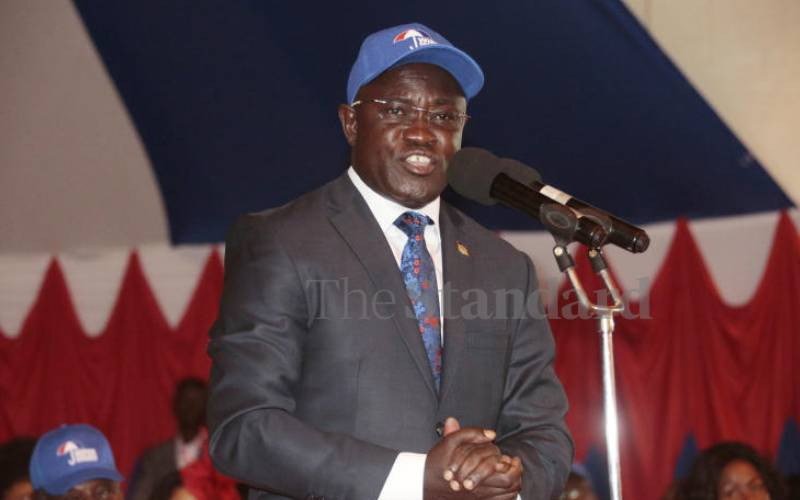 The Orange Democratic Movement (ODM) party faces a daunting task in its efforts to reclaim the Ugenya parliamentary seat it lost in a 2019 by-election.
Movement for Growth and Democracy (MDG) party leader David Ochieng, who won the seat, is keen to frustrate ODM again in the August 9 elections and replicate the strong performance he registered against the party's Chris Karan.
Although, ODM is considered the dominant party in Siaya County, the entry of MDG in the political scene has thrown the 17-year-old party off-balance.
The Raila Odinga-led party is relying on newcomer Daniel Odhiambo to wrestle the seat from Mr Ochieng.
Mr Odhiambo, an economist who has worked for the national government, is banking on the support of Senator James Orengo as well as the controversial push for a 'six-piece' voting pattern to boost his chances of winning.
Clan politics is also expected to take center-stage with analysts claiming it will have a bearing on who becomes the MP. Mr Odhiambo, who is taking his first stab at politics, is from Sega in North Ugenya while Mr Ochieng hails from East Ugenya.
Residents are waiting to see how Mr Orengo, who is campaigning for governor, will handle the two candidates given that both are supporting his bid, and will expect him to return the favour.
Although Mr Orengo is expected to push for 'six-piece' voting that only benefits ODM candidates, it has been argued that he may not do so in Ugenya for fear of backlash from Mr Ochieng's supporters.
"This is one of the ambivalence both Mr Ochieng and Mr Orengo are facing because Mr Orengo knows that Mr Ochieng also has a huge following in the constituency and if he comes out openly and opposes him then he is likely to lose those votes. Mr Orengo is in ODM as a candidate while Mr Ochieng is in Azimio la Umoja through One Kenya Alliance, but because of the following that Mr Ochieng has, Mr Orengo would want to capture them as well," says political analyst Eric Nyambedha.
Prof Nyambedha argues that while Mr Orengo may not come out publicly in Ugenya and call for an all-ODM vote, someone else in his camp can actually say so without fearing backlash.
He also says there are voters who feel that Mr Ochieng has underperformed, and this, including a push from some quarters for Ugenya to align with a possible Raila government, may hurt his bid for the parliamentary seat.
Avoid backlash
Prof Nyambedha says that Mr Ochieng has no option but to support Mr Orengo's to avoid backlash from the electorate should he throw his weight behind an outsider.
In a meeting held with all ODM candidates over the weekend, Mr Orengo said they are committed to campaigning as a team.
Mr Odhiambo said his strategy is to go to the ground and meet ODM party members. "In Ugenya we do not have grassroots MDG members. Even those who are supporting MDG now are our grassroots supporters. So we are working to ensure we win them back and stabilise our grassroots base. They are also aware of why we should not vote for any other party but ODM in Ugenya."
Mr Odhiambo said if Raila wins the presidency, it will be important to have numbers especially in Parliament.
He also claimed to have sold his manifesto to Ugenya people, in which he listed projects like roads, water, revision of bursary, and energy as among his priorities when he gets into office. He also pledged to enroll the elderly and people living with disabilities in a National Hospital Insurance Fund healthcare scheme.
But a defiant Mr Ochieng claimed his performance had been exemplary and predicted that it would earn him another term.
"We have got a track record that we are running on. I had a 10-year plan and I have done seven, something that I would have wished to accomplish. In my first term we lost eight months like everyone else, and in the second term I lost about two years.
"So I may not be where I wanted us to be as a constituency but we have made strides that are going to build around for the next five years. Some of these include completion of infrastructural projects that we started and ensuring we can access colleges. Our main focus now is going to be on putting money in people's pockets," he said.
Cotton textile
Mr Ochieng said he has identified the areas he intends to invest in to transform the lives of his constituents. He claimed he is trying to put up "one or two" industries they have already identified for cotton textile and animal feeds.
"The idea is that now we are moving from infrastructure and ensuring that people are able to earn livelihoods. We know people have confidence and we will let them know what we have in store for them."
The MP said plans were underway to popularise his MDG party in Nyanza and across the country. He described the six-piece vote pattern as an 'oxymoron', saying even Raila is not running as an ODM candidate.
Away from the presidential race, Mr Ochieng said voters should be allowed to vote for candidates they admire. "The focus for me in this election and what should be sold in Nyanza is 100 per cent voter turnout for our presidential candidate Raila. As for MDG, we already have candidates all over the country for all seats except the presidency. We want to expand the party so that it grows. My ambition is not just to be an MP forever, and so we are planning for the future."
In the 2019 by-election, Mr Ochieng had 18,730 votes against Mr Karan's 14,507 votes.