Barrack Muluka: Why I won't be quick to send my congratulations to Martha Karua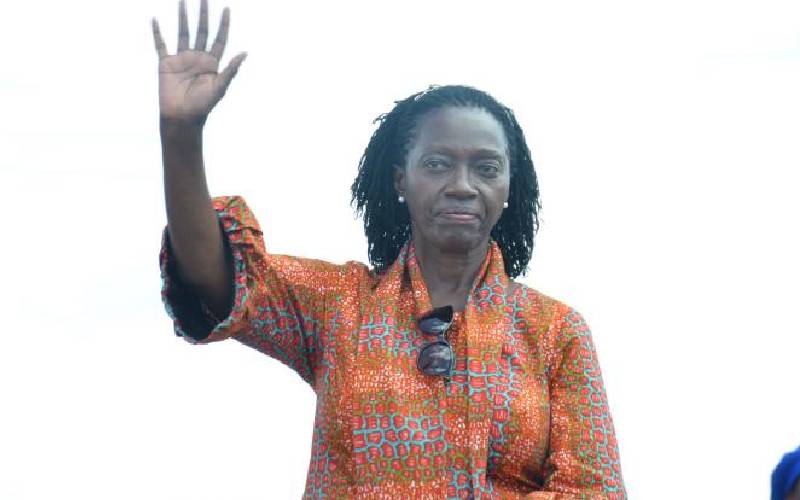 I am a slow walker, like Abraham Lincoln, the 16th president of the United States. Unlike Lincoln, however, I sometimes walk back. I want to understand things in their fineness. That is why I will go back to look for granular details of what I thought I already understood.
Accordingly, I am delaying my congratulatory message to Martha Karua, who was this week nominated the Azimio-One Kenya presidential running mate.
I need help. Some things set my head spinning. Perhaps, as Denis Brutus did in 1968, I should write a letter to Martha. You recall Denis's Letters to Martha?
I should seek to understand why in 2013 Martha told journalists in Nairobi, "I do not share any values with Prime Minister Raila Odinga. Nor do I admire his politics." But today you are all praise for his politics, Martha. What changed?
In 2013, you asked the prime minister to retire with President Kibaki, because, "both (had) been completely unable to uproot corruption from within their ranks."
I have found the clip with this message. And I am wondering whether the problem is with me, or with you.
Is it possible that you have shared some values, perhaps on presidential swearing in? Mr Odinga swore himself in irregularly on January 30, 2018, as a sort of president.
But on December 30, 2007, you were the Minister for Justice, when Kibaki was controversially (or shall we just say, irregularly) sworn in, at nightfall? Do I see some shared values here?
But have you read what Mr Odinga wrote about the Kibaki swearing in, in his autobiography titled The Flame of Freedom? Let me give you a few lines.
First, this is what he said about the election outcome, "Kivuitu (the elections boss) said it could be very well true (that the election was getting stolen).
People had tampered with the results and it was not acceptable. He would not agree to announce false results... We had not finished our conversation when Justice minister Martha Karua walked in, looking very emotional."
Mr Odinga writes on, "She said roughly, 'We need to conclude this exercise!' I watched in amazement as Kivuitu's demeanor changed completely... He looked like a dog facing a leopard. He was under duress from the other side. He was compromised." The election boss caved in before you? And Kenya burned after that?
Mr Odinga says you were the force behind the electoral mess of 2007. He says, about the evening of December 30, 2007, "Watching television, we saw them arrive so hurriedly at State House.
"We looked at the faces of thieves, some of them obviously discomfited and finding it very difficult to show any kind of confidence."
Now, Martha, I need clarity before I can catch up with those excited about you running with Mr Odinga. Have you had a quiet moment with him, to explain what happened on that tragic December day? Does he still think that the election was stolen? And who does he say were the thieves?
It is good to talk about thieves in this election. Let us do so from 1963 to date. Whose faces did TV viewers see on that brutal December evening? You see, here in Emanyulia, we believe that if you steal elections, you steal the government.
And if you steal the government, you steal everything else. Have you settled this little matter with Mr Odinga? If yes, could the settlement extend to slow walkers like me? We want to join the party.
Besides, Mr Odinga says he could not go to court because of people like you. "It was clear that we had been cheated of victory, but equally clear that going to court – as some PNU diehards, especially Justice minister Karua, were then superciliously advising us was not an option," he says.
Now these are grave matters. They can't be buried away, just like the Kemsa Covid billionaire issues, your own casting your sights lower from the president in 2013 and the excitement about 2022. I run out of space, Martha. I shall return. Sincerely yours.
Dr Muluka is a strategic communications advisor