EU will mobilise Sh400 billion to support Kenya's green transition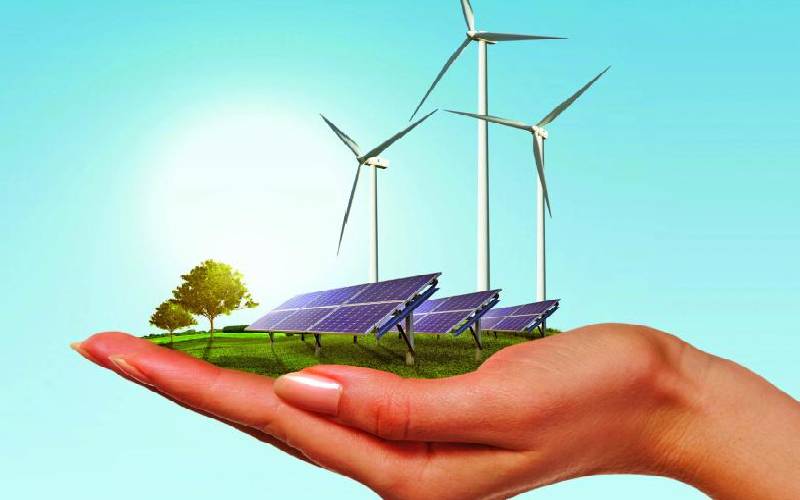 It is Europe Day again. This day marks the origins of the European Union as a project for peace in Europe. The EU aims to contribute to peace and security and the sustainable development of the Earth (Article 2 of the EU's Lisbon Treaty.) It is the EU's achievements in this area, we are convinced, that won the EU the Nobel Peace Prize in 2012. It is also why the EU is supporting peace efforts around the globe, including in Somalia, Ethiopia and South Sudan.
Alas, Europe is not at peace on this May 9 due to the Russian invasion of Ukraine. If we could have one birthday wish today, it would be peace for the people of Ukraine, and relief for those suffering the consequences of Russia's aggression worldwide. We are heartened by the global outpouring of support for Ukraine and its people, their sovereignty and their freedom from foreign aggression.
Closer to Kenya, this past year has been a successful one for the relationship between Kenya, the EU and its Member States, or Team Europe as we like to call it. Following President Uhuru Kenyatta's visit to Brussels last June, we established a new EU-Kenya Strategic Dialogue which broadens and deepens our partnership, focusing on political, security and regional matters, sustainable development, as well as trade and investment. A first result-oriented strategic dialogue took place in January and we are confident that we will move from strength to strength. Together, the EU and Kenya carried their partnership forward into the AU-EU Summit in Brussels in February this year.
One very important mutual interest is the green transition, which focuses on preserving the planet for future generations. The drought that is currently affecting many parts of Kenya and is destroying many livelihoods serves as a painful reminder of the importance of tackling climate change. The EU is a long-standing supporter of the National Drought Management Authority and other green policy measures in Kenya. The EU has also increased its humanitarian aid in Kenya to respond to the life-threatening effects of the drought. Our theme for Europe Day 2022 is young Kenyans and the Green Transition.
More needs to be done on all sides, and young people need to be fully involved. The climate crisis is a challenge for all, but most of all for young people who will be inheriting the world we are leaving behind. Yet, everyday life for many young Kenyans also means that the fight against climate change and environmental degradation has taken the back seat to making ends meet.
This year, on Europe Day, we want to highlight that preserving the planet and preserving livelihoods for future generations of Kenyans are intimately connected. The green transition offers many opportunities for jobs and livelihoods and, with that, for the continued economic and social transformation of the country. Our online programme for Europe Day at 18:00 today (on our Facebook page and our YouTube channel @EUinKenya) will demonstrate the achievements of young Kenyans who are already working on the green transition and are inspiring others, including with Team Europe support.
We will not be leaving it at that: The green transition is a flagship theme for Team Europe's support to Kenya under the EU-Kenya Strategic Dialogue. It covers the circular economy, climate smart agriculture, renewable energy, natural capital and biodiversity, and sustainable urban development and infrastructure. We are mobilising around Sh400 billion for Kenya in grants, loans and blending in 118 different projects implemented by the EU, the Member States and the European Investment Bank. This is just one of many initiatives.
The European Investment Bank (EIB), the EU bank, has been supporting Kenya's early move towards renewable energy generation. The bank has been active in Kenya since 1975 and opened its regional hub for East Africa here in Nairobi last November. This underscores our appreciation for the supportive environment that Kenya provides. The EIB's office here will also help to spearhead the EU's new Global Gateway Initiative focusing on key investments in Kenya and the region, to promote green jobs, growth, and much more.
What leads us to place our trust in Kenya is not just Kenya's economic strength in the region, but more than that, Kenya's democratic front-runner status in the region and its independent judiciary that guarantees rule of law.
Democratic processes can be complex. We know that very well from our experiences in Europe. Yet Kenya's democracy and its rule of law are the best guarantor that the conditions of freedom will prevail, for the Kenyan media, for civil society, for domestic and international investors, and for all Kenyan women and men - we are hopeful that the upcoming elections will see many more women elected. These are the conditions required to build genuine human development and prosperity for all Kenyans.
The EU, along with other like-minded partners, will continue to stand by Kenya's side: We have been invited by the IEBC and the government of Kenya to deploy an EU Elections Observer Mission for the 2022 elections. This deployment will contribute to the continued improvements in good governance that began in 2002, under the guidance of President Mwai Kibaki. A credible and peaceful election will consolidate Kenya's leading role in the region, in Africa and globally.
The EU's support builds on the existing strengths of the EU-Kenya relationship: Team Europe is amonst Kenya's biggest development partners. We are Kenya's largest trading partner and export market. We are working closely with our Kenyan partners to start implementing the Economic Partnership Agreement very soon. But of course, with the climate crisis facing us we need to embrace the green transition – and the creative power of Kenya's youth – to grow sustainably, inclusively and greener.
18 EU ambassadors representing their countries in Kenya also contributed to this article.