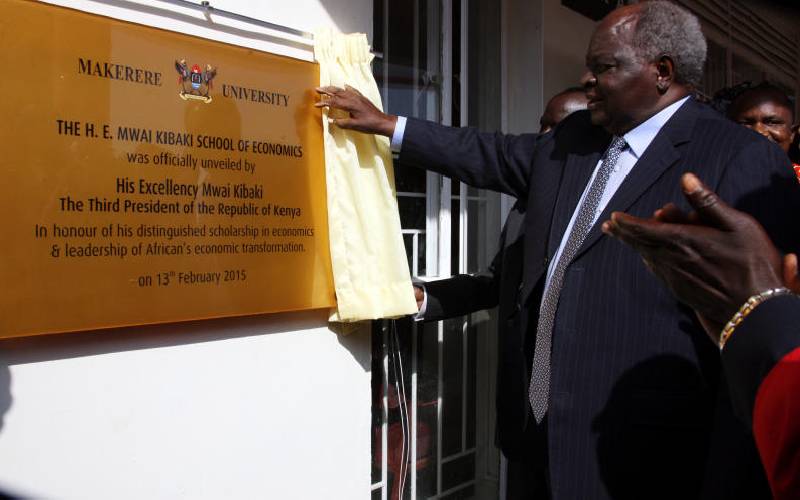 Makerere was the ultimate East African nursery for future leaders. It was here that independence technocrats and political leaders were tendered before being released to the world, to lead and serve East Africa's Great Lakes region. Makerere was the place to be and, in their own words, "as an emerging African elite."
Dr Benjamin Edgar Kipkorir, one of the luminaries from the academy on the hill, later recalled Makerere as an institution that equipped them "with knowledge, skills and connections."
It is a paradox of sorts that an entity that was started in 1921 to produce carpenters and sundry craftsmen ended up producing, instead, some of the finest intellectuals and technocrats in the region and beyond.
The first class was intended for carpentry, building construction and mechanics, according to university prospectuses. They called it Uganda Technical College. It was soon renamed Makerere College and its programmes expanded to include arts education, medicine and agriculture. Most of the courses remained in the area of technical training, however, until 1937, the year Jaramogi Oginga Odinga joined to train as a teacher.
In the autobiographical Descent from Cherang'any Hills, Kipkorir reports that there were about 750 students at his time in the period 1960–64, "… half of whom were Kenyans; and one in every five from Alliance." There were more Kenyan students in this citadel of higher learning than their Ugandan hosts.
Jaramogi was among the earlier generations of Kenyans to study here in the years 1937 – 1940. He later recalled some of his contemporaries as Godfrey Binaisa (who became Attorney General and later President of Uganda), Dr Sam Mukasa (the Kabaka's private physician), Argwings Kodhek (later Kenya's first lawyer), Walter Odede (later a Member of the Legislative Council and father to Pamela Mboya), Webungo Akatsa (later undersecretary in the office of Prime Minister Jomo Kenyatta), James Odawa, Mariko Ombaka (patriarch of the Ombaka family of Gem, including former MP, Dr Oki Ooko Ombaka), and Joel Ojal, among others.
But, political leaders besides men of Jaramogi's towering rating, it is the luminaries of Dr Milton Obote, Julius Nyerere, Benjamin Mkapa, Yusuf Lule, Godfrey Binaisa, and Mwai Kibaki who make Makerere stand out as the forge in which African leaders were prepared. Mkapa joined the prestigious centre of learning in 1955, the same year that Kibaki graduated. Mwalimu Nyerere was here in 1943 – 45, joining in three years after Jaramogi left. But there are many notables Makerere alumni in virtually all walks of life.
Writers and scholars in social science include such names as Ngugi Wa Thiong'o (in his days in Makerere James Ngugi), Micere Githae-Mugo, David Rubadiri, John Ruganda, Charles Mang'ua, Okello Oculi, VS Naipaul, Eda Gachukia and Nurrudin Farah. Ngugi has recalled the profound literary influence that Makerere had on him from the time he impulsively gave a half-true story to his literary mentor at the university. He writes in Secret Lives, Sometime in 1960 I met Mr Jonathan Kariara outside the Main Hall of Makerere University College and on an impulse stopped him.
Preliminary year
"I had written a short story and would he care to look at it? Mr Kariara was then in his final year as a student of English. He was very involved in Penpoint, a journal then at the centre of the creative efforts on Makerere Hill. I was then in my second preliminary year, and the story was only in my mind. I knew I had to write a story. This then became The Mugumo Tree. Mr Kariara was excited about it. Had I been reading DH Lawrence, he asked."
Such was the nature of the foremost fountain of learning in East Africa, full of verve and life, from the recorded testimonies of those who were there. Jaramogi recalls his engagement with life on campus and especially with the Christian faith. "A large part of my life in Makerere was dominated by religion. I found solace in frequent reading of the Bible," he writes in Not Yet Uhuru, "I was persuaded that a man without a strong religious conviction and constant prayers could not succeed in life."
Jaramogi and a team of others spent most of their Sundays on Christian outreach in Kampala and its environs. Kibaki, according to Ng'ang'a Mbugua who has written about him in the booklet Mwai Kibaki: Economist for Kenya, Kenya's future president spent much time in student politics, debate and drama.
As a student leader he was once involved in protests against bad food. However, when word about this reached Mzee Kenyatta, then a freedom fighter, he advised Kibaki and his friends to focus on their studies and on the future. They heeded the advice. He went on to distinguish himself as an ace student who graduated with a First Class Honours Degree in Arts (Economics).
The distinction saw him win an immediate scholarship to the London School of Economics, where he once again graduated Summa cum Laude. He did not go back to his former job as a salesman for an oil company, but headed instead to the lecture room as a teacher. Among his students were his future Cabinet minister David Mwiraria, who in his days remembered his teacher with much fondness. It is of little wonder that Kibaki appointed Mwiraria his Finance minister in his first Cabinet.
Departed politician Kenneth Matiba also attended Makerere. After his first degree, he elected to take a one year diploma course, waiting for his future wife, Edith to complete her undergraduate studies. Daniel Gachukia and his future spouse Eda (then Eda Gitau) also met as students at the famous Ugandan university, according to family sources.
Uganda's opposition politicians Kizza Besigye and Bobi Wine are also alumni of Makerere as was Malawi's iconic nationalist Kanyama Chiume, who later fell out with President Kamuzu Banda and fled into exile in 1964. President Joseph Kabila of DRC also attended Makerere as did former Vice Presidents of Uganda Specioza Kazibwe and Sam Kisseka and the country's first Prime Minister and Chief Justice, Bendicto Kiwanuka.
Some notable teachers in Makerere have included President Kibaki himself, Prof Ali Mazrui, Mahmood Mamdani and Okot p'Bitek. Others are Prof David Wasawo, Prof Festo Mutere and Prof Joseph Maina Mungai. Kenya's pioneering medic, Dr Jason Likimani, was also an alumnus of Makerere.
The writer is a strategic communications adviser