Five lessons we can learn from former President Mwai Kibaki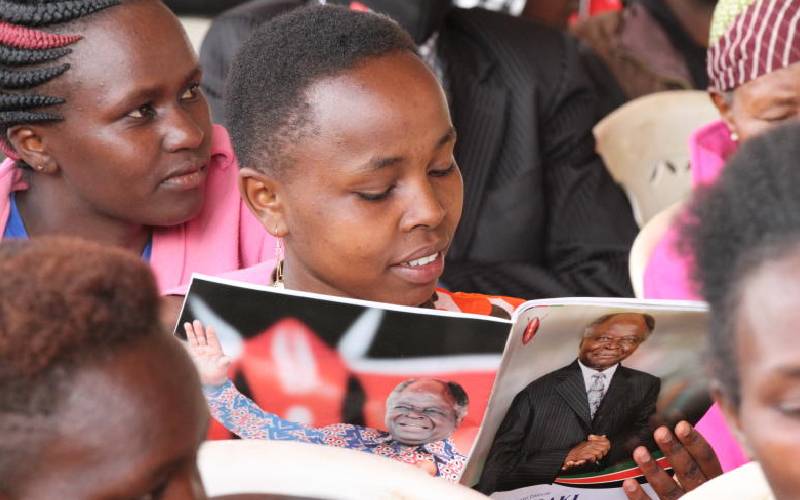 Our departed former President Mwai Kibaki was my friend and boss. I was privileged to learn five key lessons from him that can transform our nation.
The first lesson can be found on a hot April afternoon in 2013. Just a few weeks after his presidency concluded, President Kibaki attended the funeral of my dear friend Sen Mutula Kilonzo.
While describing the late Mutula Kilonzo to mourners, he uttered words that spotlight this first lesson, "this man was one of those whose mind was there to serve people. Ask yourself the question, what have I done to serve people?"
The first lesson can be summed up in two words – servant leadership. Our departed Third President was a passionate firm believer in servant leadership. He didn't have the 'boss mentality' that many waheshimiwas are prone to embrace.
The second lesson can be found in Brazil. In 2012, I was part of President Kibaki's official entourage to Rio de Janeiro, Brazil for the Rio+20, the United Nations Conference on Sustainable Development. The Presidency invited me due to my well-known environmental work. During our sojourn there, he granted me a chance to personally introduce him to His Serene Highness Prince Albert II of Monaco, who by God's grace is known to me.
The President informed me that there was no need for me to issue him with a detailed presidential brief about the goal of the meeting. He told me in his usual witty manner, "wewe unajua nini Kenya inahitaji. Utasema yotee. Mimi nitasema wewe ni mtu mzuri " ( You already know what Kenya needs, say it all. I will only say that you are a great person). Suffice it to say that the meeting was very fruitful for both Kenya and Monaco. It was effective because he gave me wings to fly and trusted me to deliver.
Open-door policy
Leaders must empower those under their wings by giving them wings to fly.
The third lesson can be found in 2011, in the rural parts of Kitui. President Kibaki honored the ordinary people of Kitui when he visited our Green Africa Foundation Farm to officially launch the Green Africa Villages Initiative and the Plant Your Age campaign. Contrary to what many thought, the President visited us in response to an invitation letter that I had sent him.
Although powerful people were against that visit, the President refused to be party to political machinations. Indeed, you did not need patronage to access Kibaki for as long as you did the right thing. Truly, we must ensure an open-door policy that will grant equal opportunity to all irrespective of their ethnicity, religion or economic status.
The fourth lesson can be found in the final weeks of Kibaki's presidency. As one of his final acts, he appointed me as Founding Chairperson of the Kenya Water Towers Agency. He did so because he believed in rewarding competence.
That is a vital lesson that we should take to heart especially as we approach the general elections. Our votes should reward competence, not just bravado and chest-thumping. Once the leaders we shall elect take office, we as the people of Kenya must ensure that they reward competence, not cronyism and tribalism.
The fifth lesson can be found in a scripture that President Kibaki epitomised. The Scripture say in Proverbs that in the multitude of counselors there is safety. President Kibaki exemplified this piece of wisdom. Many have testified that he was a great listener, which is the mark of someone who seeks counsel.
What hasn't been sufficiently spotlighted is the way that he assembled a thoughtful, richly experienced team of advisors that provided him with priceless counsel. They include Ambassador Francis Muthaura, Prof Nick Wanjohi and many greater people.
Many present-day leaders surround themselves with sycophants who have neither the courage nor the capacity to give them critical counsel.
At whatever stage you are in your life even as we pray that God Comforts the Kibaki family, seek counsel, listen and act on it.
Think green, act green!