What Ruto, Raila must know on free speech
OPINION
By Mark Oloo | Dec 11th 2021 | 3 min read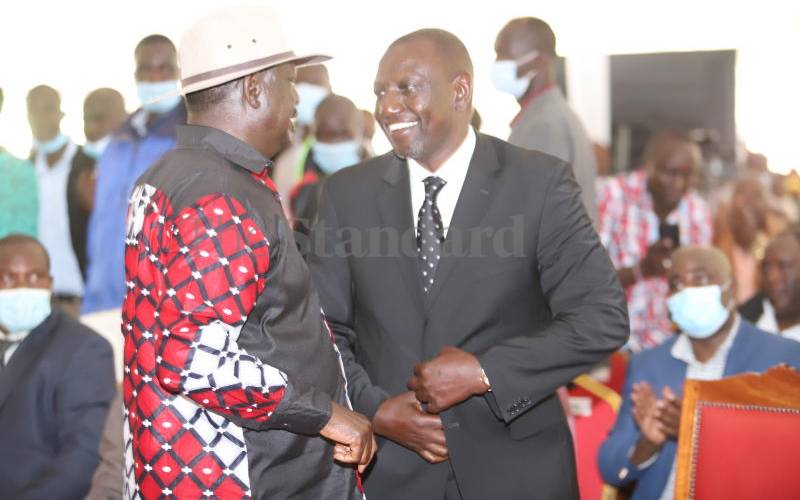 Social media is a global influencer and the elite know this inside out. Dependency on social networks by big brands, celebs, and political figures has powered them in a mystifying way.
The world has been thrust into the future. What's known to be the 'power of platforms' is a revolution with a snare. In Myanmar, 730,000 refugees are suing Facebook for Sh17 trillion over claims it was used to fuel turmoil leading to rape and mass murders.
We've seen little-known candidates win elections courtesy of their social media prowess. The 'Black lives matter' crusade started in the US, defied geopolitical barriers, and spread to Brazil, Malawi, Honduras, and all over the place, thanks to social media.
In Kenya, 2022 frontrunners are hogging the limelight on Twitter and Facebook. It did not start now. In 2013, Deputy President William Ruto coined the phrase 'digital versus analog.' Ruto and Uhuru Kenyatta were digital while Raila Odinga and Kalonzo Musyoka were disparagingly branded analog supposedly on account of age.
With 52 million mobile connections and 22 million Internet users — eight million of whom are active social media users — Kenya is among nations where Facebook, Instagram, TikTok, YouTube, and Twitter are a way of life.
And yes, Kenyans on Twitter (KoT) can be hard-nosed. A few months ago, Ruto caused jitters with fiery Twitter screeds, aiming jabs at President Kenyatta and the 'system.' Like Donald Trump, the DP built a Twitter brand with "fake news" alerts and screenshots of print stories he detested.
Towards 2022, Ruto and Raila are dunking into the digital space with zest in search for votes. In some instances, they use street and ghetto lingo to charm the youth. They give off the image of patriots who care about free speech.
My point is, every politician worth their salt must refrain from social media gags. They should allow unbridled access to their social media pages. Blocking critics is backward. The gags can reverse important values. We saw it in Uganda and Nigeria.
Take it or leave it. When you enjoy prominence on social media, you must be ready to face the taunts. In a case against Trump, the US appeals court affirmed that people whose social media accounts have "the hallmark of a public forum" can't exclude users on the basis of viewpoint. Let public office seekers man up in the digital space by unblocking users they begrudge. I'm a casualty, having been blocked on Twitter by Ruto. It could be his choice or that of his handlers. But does it add any political value? Great leaders don't choke their critics, they embrace them. Remember the famous words "I don't agree with what you say but I will defend to the death your right to say it?"
Uhuru, who was 'bullied' out of social media, was right when he told former CJ David Maraga to get used to foul bloggers and trolls. That was the day photo-shopped images of a naked Maraga went viral. Blocking critics is the easier route but it points to dangerous intolerance, poor anger management, and aversion to scrutiny.
-The writer is an editor at The Standard and a 2021 RISJ University of Oxford fellow. Twitter: @markoloo