GSU graduates video sheds light on policing culture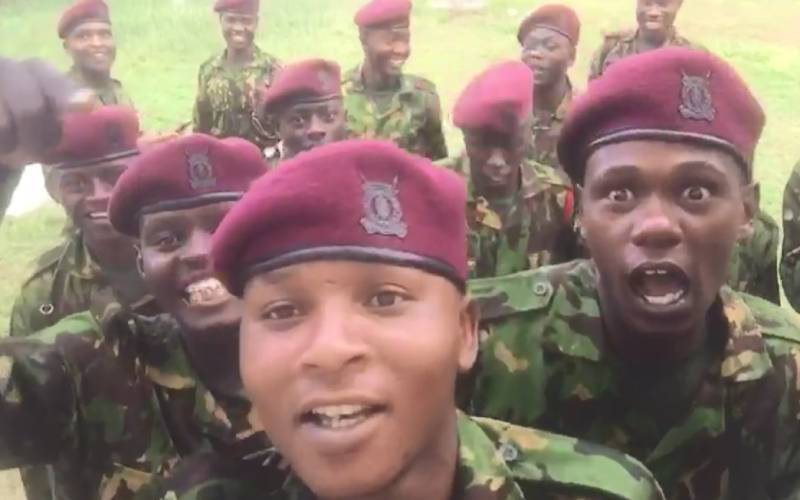 A video clip depicting fresh General Service Unit (GSU) recruits celebrating their passing out ceremony has caused a stir in social media. The rookie police officers appear to communicate to Kenyans that they will be brutal to the public once deployed. One of them makes gun sounds and warns society not to mess with them. It is sad that they seem to be addressing ordinary Kenyans rather than criminals.
The National Police Service (NPS) swiftly issued a statement regretting their behaviour. However, the NPS was adamant that the conduct was irresponsible and reckless and did not represent its values based on democratic policing principles. It is noteworthy that President Uhuru Kenyatta advised the recruits that their guns were for protecting, rather than the taking of lives during the pass out parade.
The viral clip comes against a backdrop of several incidences of unlawful policing, including an unprecedented number of murder-suicides among officers this year and allegations of extrajudicial killings and illegal use of force. This Tuesday, Officer Benson Imbatu, under investigation for murder, killed his girlfriend and five people before fatally shooting himself.
These incidences raise pertinent questions regarding the police reforms process, mental health management within the service, due process and police accountability mechanisms, especially since Imbatu was on the Independent Policing Oversight Authority (IPOA) radar for a prior violation. Despite the changes in laws, uniforms, and even remuneration, does the training comply with the day's constitutional and human rights conditionalities?
From the clip, one might deduce that the young officers had a contemptuous attitude towards members of the public. They view us as enemies who should be dealt with punitively instead of their clients, comrades, fellow Kenyans and rights holders deserving of respect. Yet, these officers will be part of the team to safeguard the elections next year. It appears that, as a nation, we have refused to reckon with the violations that happened in the 2017 elections cycle.
That year, a report by the KNCHR documented 201 cases of sexual violence, mainly in Nairobi, Western and Nyanza counties. Of the cases, 54.5 per cent implicated police officers. The document and the atrocities have never been discussed in Parliament nor acknowledged by the public bodies mandated to deal with justice, security and future elections. No prosecutions have been initiated despite an inquest that found six officers culpable of the bludgeoning to death of six-month-old Baby Pendo in Kisumu.
We have also deliberately chosen to ignore the challenges faced during the recent period of enforcement of Covid-19 protocols that resulted in the sharp rise in brutality because of mass police deployment, like what happens during elections. Many will recall a similar video clip showing officers singing war songs before being deployed to deal with the "stubborn civilians" just before the curfew. The first images to come out were beating up and frogmarching of civilians near the Likoni Ferry in Mombasa even before curfew. Several reports of unlawful killings and unlawful use of force were reported in the following months, including the death of 13-year-old Yassin Moyo as he stood on his family's balcony in Kiamaiko, Nairobi.
As we march towards the August 2022 elections, what have we done to ensure that history does not repeat itself? As Prof Mutuma Ruteere said, "policing is where state power meets the citizen; how the police officer treats that ordinary citizen is a commentary on the nature of that state". The government should recalibrate policing culture to respect and protect the people rather than regime-centred interests. This includes rewarding officers for treating us, including our rights with respect.