[email protected]: We won't rest until we reach all children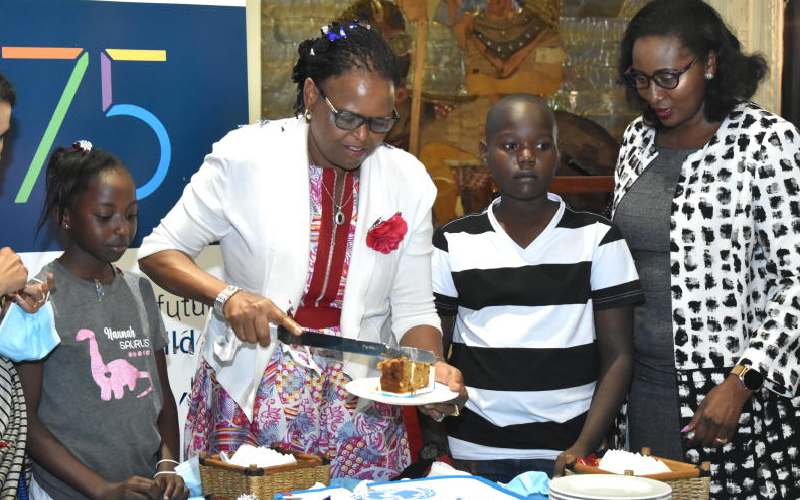 Today is World Children's Day. It marks the anniversary of the UN Convention of the Rights of the Child, which has transformed children's lives around the world. This year is also Unicef's anniversary. We are 75 this year and have spent 50 years in Kenya. This is a significant time, but our mandate keeps us young. We exist for children: to help them survive and thrive, no matter who they are or where they live.
Unicef began in 1946, after World War Two, to help children whose lives were at risk, regardless of the role their country played in the war. Since then, our work has changed – expanding from emergency response, to long-term development issues like education, health, nutrition, water and sanitation, and social protection to support vulnerable families and their children. We have beaten diseases like smallpox and secured education for millions of children.
Now, with the Covid-19 pandemic, we are facing another major global crisis. Unicef is again at the forefront of the response, including by delivering an expected 1.4 billion vaccines through COVAX by end of 2021. We are also faced with the task of shaping a better future for every child, as we recover from the pandemic. This is against the backdrop of a climate crisis threatening the lives of our children.
Yet, despite these challenges, we can always look to the new generation for hope. A new Unicef and Gallup survey – 'The Changing Childhood Project: A multigenerational, international survey on 21st century childhood' – shows children and young people are nearly 50 per cent more likely than older people to believe the world is becoming a better place.
Kenya was one of 21 countries surveyed and respondents' optimism shone through. More than two thirds (69 per cent) of young Kenyans between the ages of 15 and 24 believe children will be better off economically than their parents.
In Kenya, Unicef has big ambitions with its partners. We are working with the Government and others to connect all primary schools to the Internet by 2030 through the GIGA partnership. We are helping all children and pregnant women benefit from preventive health packages and can access high quality care. We are investing in the 'Spot it Stop it' campaign to address violence against children. We're embracing solar-powered water systems for schools, healthcare facilities and villages. We would like to see social protection programmes reach all. And we will be engaging children as change agents, including for better care of our planet.
The writer is Unicef representative to Kenya. @maniza_zaman