Kenya must stop the war on trees in Nairobi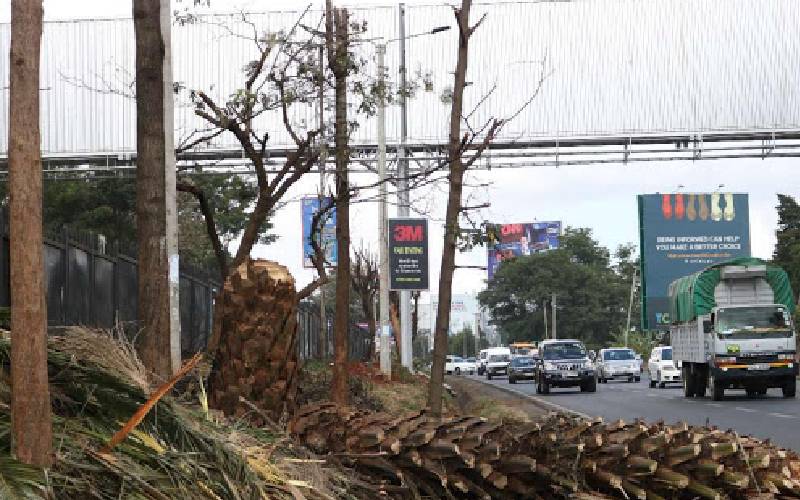 This week the world's focus was on the Scottish city of Glasgow for the COP26 in a make or break gathering to mitigate effects of climate change.
The powerful, wealthy, poor and victims descended there to fine tune, marshal resources and get commitments to save us from the fury of an abused mother nature.
A large Kenyan delegation comprising led by President Uhuru Kenyatta put its case for global action. The President, a key speaker for the poor South, a victim of the rich and industrial North's pollution, did not disappoint. He gave compelling evidence on why we must close ranks to tackle climate change.
To arrest global warming, countries must commit, both at local and international levels. Unfortunately, there is a world of difference between talking. Are countries, especially the industrialised North walking the talk? Hardly. It has even become elusive to marshal a $100 billion kitty to help mitigate global warming.
Teenage Swedish environmental activist Greta Thunberg termed COP26 a failure. Kenyan Environment CS Keriako Tobiko also expressed dissatisfaction with deliberations at the conference, saying Africa needs to manage expectations on the long-overdue pledges from the rich and notorious environmental polluters.
He added that victim countries were treated to flowery and endless speeches without actionable instruments and binding commitments.
And how is Kenya fairing in its climate change mitigation initiatives? Not so promising. Besides the climate change adaptation and resilience projects supported by donors and NGOs, especially in the fragile ecosystems already suffering adverse effects, the government, national and counties, have little to show. Its mere talk and promise to act.
For instance, the apparent declaration of war on trees by the Nairobi Metropolitan Services in the city is a tragic testimony of the government's seriousness in tackling climate change. And worryingly, is the loud silence by those who should be warning about global warming. Where are the county environment department, the Environment Ministry, the National Environmental Authority and even the United Nations Environment Programme, as trees that once paved the city streets are hacked down? Does is it matter that Nairobi could soon be turned into a microwave city because of this impunity?
As the Tobiko delegation returns to Nairobi after the showbiz in Glasgow, its work is cut out; stop the wanton felling of trees, and mobilise residents to re-green the city.
The writer is a consulting and training editor