Why Jomo Kenyatta's send-off was just like that of Winston Churchill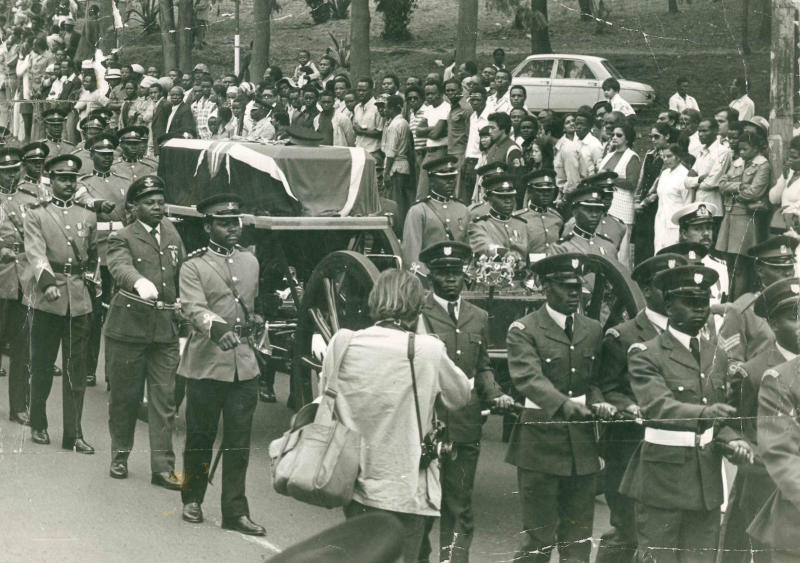 In recent times, studies on colonialism and imperialism have extended to include exploration of political intimacies. These include power relations, emotional economies, cultural hybridities or economies of colonial knowledge.
Despite the bitter after-effects of colonialism in Kenya and the painful end of imperialism in 1963, the funeral of Jomo Kenyatta – a man who had established himself in the British popular imagination as the embodiment of endurance and struggle - provided a revealing glimpse of the depth of England's continuing love relationship with Kenya.
It all began in May 1968 when Jomo Kenyatta suffered a stroke. As a result of his poor health, the president was gradually distancing himself from formal politics. The 'Kiambu Mafia' who had been rapidly coalescing around the ailing president became increasingly active - perhaps in anticipation of the old man's inevitable eventual demise - and sought to perpetuate his authority over other ethnicities.
The realisation that upon Kenyatta's death, his deputy would automatically assume the presidency seemed to rattle them greatly. The possibility Kenyatta - at that time a larger -than-life character whose death could not be legally 'imagined' as per the constitution- dying suddenly was causing serious political stampede.
These fears caused Bruce McKenzie, the powerful Agriculture Minister and the Head of Civil Service Secretary Jeremiah Kereini, to visit the British High Commission in Nairobi with one question: What would happen if Kenyatta actually died in office? The High Commissioner in turn wrote to the foreign office in London to consult further. He was informed that Winston Churchill was the most recent person to have had a state burial.
If Kenyatta died, his burial rites and rituals could be benchmarked with those of Churchill. Various levels of discussions ensued, touching on funeral arrangements, the coffin, transport, lying-in-state, guests, the actual burial and other aspects should Kenyatta die.
It was 10 years before Kenyatta finally died. The oddly interesting thing about his burial was the display of quintessentially British pageantry, pseudo-royal pomp, traditions and English burial rites instead of what one would have expected of the funeral of a fierce traditionalist.
It was remarkable how a highly western style of burial preparations had penetrated and overcome deep-seated Gikuyu burial customs! As such, it is hard to imagine a more striking symbol of the transformation of British attitudes towards leaders of former colonies.
According to Poppy Cullen, British Foreign Secretary David Owen and Prince Charles met individually with vice president Daniel arap Moi to offer solidarity and help in planning. The first Cabinet meetings under Moi's leadership concerned Kenyatta's funeral arrangements executed by a State Funeral Steering Committee.
The government of Kenya also requested funereal paraphernalia. One, was the gun carriage which consisted of a gun, limber and 50 rounds of blank ammunition. Secondly, speeches were borrowed. Indeed, the eerie similarity of Churchill's death speeches to those of Kenyatta could be said to be a pioneering case of funerary plagiarism. With minimal tweaking, practically everything from Churchill's funeral was present in Kenyatta's.
Thirdly Churchill's embalmer was brought to Kenya to work on Kenyatta's body. Fourth, a coffin similar to that of Churchill was flown in. Fifth, the dress code, the flying of the flag at half-mast, the lying in state and finally the decision to inter Kenyatta at Parliament buildings and not at his Gatundu home were all adopted. This was British idea supported by Charles Njonjo and Kireini.
So soon since after an era when everything British was supposed to be a painful reminder of the many 'British Gulag' atrocities, it was truly amazing how English, rather than Kikuyu inhumation for Jomo miraculously satisfied everybody! It can be argued that these were the beginnings of a dystopian state as depicted in George Orwell's 'Animal Farm' where the animals, formally so fiercely united against the excesses of Jones and his ilk, gradually transform into faithful connoisseurs of his 'sinful pleasures'.
For, indeed, the young nation went on to adopt the most voracious of capitalism's many shades. Lately–in practice and in data-based rankings - Kenya has attained the ignominy of being one of the most corrupt nations on earth.
As expected, Jomo was accorded unprecedented and the grandest obsequies affordable by the young nation. Unfortunately, his funeral did not become a statement of anthropological production of the image of "authentic Africa' as was always anticipated by western scholars.
Instead, it perpetuated the image of -not a 'traditional'- but a 'modern' nation-state's funerary practices, sanctioned and indeed, imported, from Great Britain!