Proactive policies needed as response to climatic disasters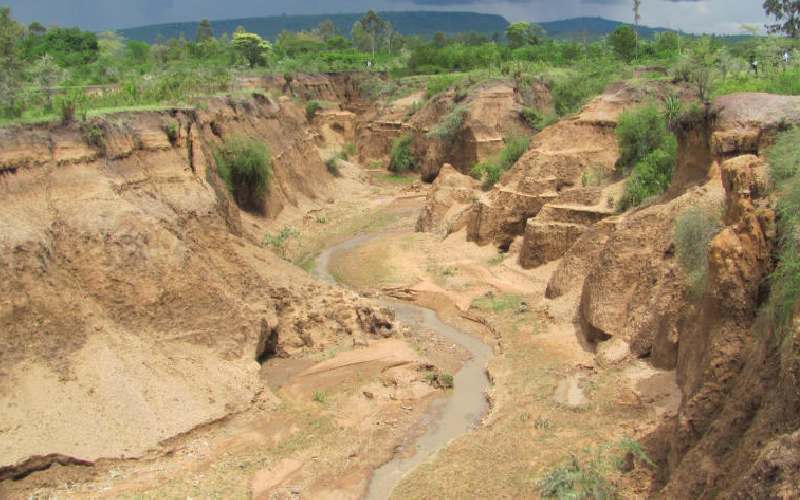 Like many countries, Kenya is experiencing the devastating effects of climate change. Currently, seven counties are experiencing severe flooding, while nine face drought.
In the late round of flooding, at least 40,000 people have been displaced with forecasts indicating that rains are expected to persist into June, especially in Western Kenya.
Climate-related disasters such as floods, drought and heat waves have increased in intensity and frequency globally with their associated impacts stretching the capacity of communities, governments and humanitarian organisations to respond. In Kenya, it is not only the increase that is worrying, but their multiplicity and cyclic nature.
Between October and December 2019, most parts of the country experienced heavy flooding that affected 20 counties, leaving over 200,000 people displaced, property destroyed and livelihoods lost.
As the rains were easing in December, desert locusts were sighted in Mandera and Wajir and by May 2020, 16 counties had reported invasions, the worst Kenya has experienced in 70 years. The unusually heavy rainfall and desert locust invasion were linked to the warming of the Indian Ocean waters close to the Greater Horn of Africa Coast.
heavy rains
The impact of the prolonged heavy rains on lakes in the Rift Valley has persisted to date. There have been massive displacements of people as a result of the lakes expanding into nearby villages. Notably, Lake Baringo displaced over 5,000 people besides destruction of infrastructure. The rains also enhanced desert locust spread and breeding since there was regeneration of vegetation.
The recurring and overlapping disasters are leaving communities with little time to recover. Some families in Western Kenya have been in camps since 2019 because of recurring floods.
The same applies to communities in the Tana Delta who were affected by floods in 2019 and early 2020 and are currently facing food insecurity due to the evolving drought which is projected to worsen towards the end of 2021.
This equally affects the capacities of national and county governments since there are limited resources to support affected communities for a long time. Humanitarian organisations also get stretched as they respond to multiple disasters in different communities.
Furthermore, with disasters affecting different parts of the world concurrently, funds are limited and developing countries bear the brunt of this cash crunch. Covid-19 has not only shifted global focus from climate-related disasters, but diminished resources available for response. Disaster managers and stakeholders are shifting focus from response to preparedness. There is increased use of weather forecast to inform anticipatory action on disasters. This is in line with global frameworks such as the Sendai Framework for Disaster Risk Reduction 2015–2030.
Humanitarian institutions, including Kenya Red Cross (KRC), are at different levels of developing anticipatory risk management systems for drought and floods. There is evidence of value in implementing early action in advance of a disaster.
Ahead of the 2016/2017 drought, Food and Agriculture Organisation implemented early action with selected households in Marsabit, Wajir, Kilifi and Kwale counties. As a result, households that would have probably needed food aid were able to sustain themselves through the drought and for each dollar spent in early action, the household made $3.5 in return.
As part of early action KRC, in early 2019, piloted a cash transfer programme to vulnerable households in Mandera, Wajir and Marsabit. The cash gave households the opportunity to prioritise needs, thus reducing the risk of engaging in negative coping strategies. Despite these successful pilots, this approach has not yet been widely embraced.
How then can we ensure it is embraced by more actors, scaled up and made sustainable? First, we must acknowledge that the future of humanitarian action is local hence shift focus to enabling communities and local actors to decide their priorities.
We must invest in strengthening their capacity to act in their own communities as they are the first responders when disaster strikes and are best placed to lead local action.
community education
We must make deliberate efforts to strengthen community education and raise awareness on climate change mitigation and adaptation.
We must disseminate climate information to the last mile user, through channels that are accessible and in a format and language that is easy to understand. Additionally, we must enhance communities' capacity to use climate information to anticipate and prepare for disasters and act in a timely manner.
Second, we must invest considerably in early warning and early action. Resources should be directed to improving climate information in the country for different time scales (season to days), and formulation and implementation of early action that can reduce the impact of disasters.
Above all, we must integrate anticipatory action and/or preparedness in our disaster management policies and laws at all levels. This should be accompanied by disaster management structures run by early warning experts that have adequate funding.
Dr Mohammed is the secretary general of Kenya Red Cross Society. Ms Mwangi is a climate scientist at the Kenya Red Cross