Suluhu turns a new leaf in regional diplomacy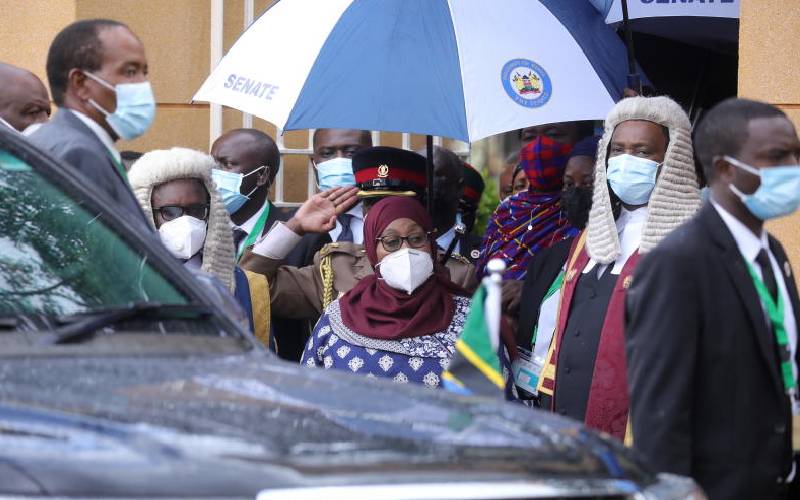 Tanzania is now taking a more business-friendly approach to diplomacy. An apparent change of tone ushered in by President Samia Suluhu since assuming office could indicate a new economic direction and even salvage the ailing East Africa Community (EAC).
Never before has a Tanzanian president caught the attention and dazzled Kenyans as did the newly installed Samia during her maiden two-day tour, effortlessly pulling off a diplomatic coup. When she delivered her first speech to Tanzania parliament, she said; "our mission is to regain investor confidence and spur trade."
Investors have been wary of Tanzania, more so in the extractive industries. On the Fraser Institute's Annual Survey of Mining Companies' 'Investment Attractiveness Index', Tanzania fell from 64 of the 104 jurisdictions surveyed in 2016, to last in 2019 and 75th out of 77 jurisdictions in 2020.
Ultimately, President Samia should establish a stable and predictable regulatory environment. Predictability is established where investors recognise that rules are implemented in a specific way and achieve their objectives in a foreseeable manner. This promotes investor confidence.
A fortnight ago, it was not in doubt Kenya is focused on nurturing Tanzania as a prime business partner. President Kenyatta and President Suluhu agreed on, among other things, lifting work permit and visa requirements for Tanzanians seeking work in Kenya. Further, the two agreed on elimination of non-tariff barriers for Tanzanian investors seeking to do business in Kenya. This is an intrepid move.
Instead of the traditional complaints about economic domination, President Samia told a Kenya-Tanzania joint business forum that they had resolved to put to rest frequent diplomatic rows and non-tariff barriers that have long been an obstacle to free-flow of trade and labour.
The region has launched multi-billion-shilling infrastructure projects in the central and northern transport corridors to facilitate import and exports. Tanzania controls the Central Corridor (1,300km) while Kenya controls the Northern Corridor (1,700km).
Today, President Samia has dismantled the social and economic barriers and smoothed diplomatic relations.
The writer is a communications expert.