Goodbye 'father of Kenyan journalism' Philip Ochieng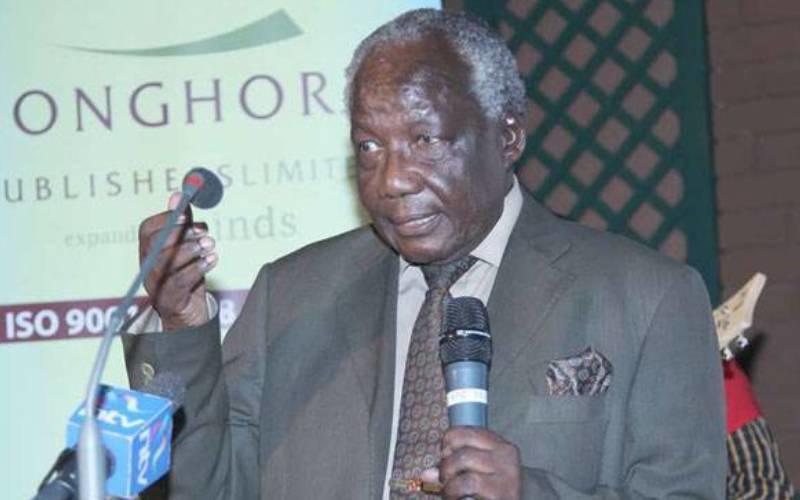 The story of Kenyan journalism will remain incomplete without a narrative on Philip Ochieng who died on April 27, aged 83.
Ochieng, who will be buried today, ranked among the elite journalists who left an indelible mark on the country's media landscape.
Should one day the idea of a journalism hall of fame come to fruition, PO, as he was fondly known, would certainly feature alongside renowned Kenyan editors such as Boaz Omori, George Githii, Hilary Ng'weno, Joe Rodrigues, Henry Gathigira and George Mbugguss.
But Ochieng will be remembered more as a bridge that linked this pioneer generation to the mid-stream professionals he worked with through the one-party State and "second liberation" era. He also authored two books, The Kenyatta Succession with Joseph Karimi and I Accuse the Press.
While a number of these pioneers have since departed or retired, many are still active in media circles, as either contributors or imparting knowledge to a new breed of digital journalists.
Stone subbing
Ochieng's tentacles traversed all these eras - the traditional reporting notebook and typewriter culture, the sub-editor's red biro scribbling on raw copy, stone subbing, typesetting, cut-and-paste lithographic pre-press days that preceded the modern Google-inspired digital platforms that have transformed print and broadcast media.
It was due to his remarkable capacity to identify talent and turn them into formidable reporters and editors that placed Ochieng above the rest. While I may not have scaled the exacting standards that he always sought, I stand to be counted as a beneficiary.
Ochieng's true colours shone in the newsroom. Other than his microscopic attention to copy and sense of news judgement, he demonstrated a rare capacity to recognise skill and reward competence.
In his elevated position, Ochieng was humble but witty with a Kafkaesque sense of humour. An enduring image of the editor-in-chief, legs crossed atop his desk, red biro flying through copy with abandon, a tome of Webster's Dictionary on standby will forever remain etched in my memory.
However, the greatest personal reward I cherish was his mastery of complex political, social and economic tapestry of the Kenyan nation and the vital lessons he imparted by proxy or accidentally that have served me well to date. His journalistic foray in nationalism began at the Daily News in Julius Nyerere's Tanzania where he worked with the country's third president Benjamin Mkapa.
From Philip and based on our country's history, I came to better understand how the Kenyan media is entangled in an intricate web straddling a power structure that has enabled, but to an extent, also curtailed its development.
He practised journalism by combining the triple functions of reporter, sub-editor and manager with alacrity. I observed his proactive mentality as a journalist when he was editor-in-chief of Kenya Times.
He had gladly accepted the Kenya Times role after leaving Daily Nation, bringing with him some of the newspaper's editors and writers.
I was recently involved in editing a handbook of the Alliance High School alumni (Philip was one) and in hindsight, I am not surprised that he was able to navigate his way in the terrain of the Kenyatta and Moi-style of leadership.
Sample the names of Ochieng's Alliance comrades who dominated the Kenyan political and media landscape then, some to date and you will get the drift: Amos Wako, Prof Anyang' Nyong'o, Bethwel Kiplagat, Charles Njonjo, James Kanyotu, James Mworia, James Orengo, John Khaminwa, Justice Evan Gicheru, Justice Richard Kwach, Kiraitu Murungi, Kitili Mwendwa, Maina Kiai, Makau Mutua and Njoroge Mungai.
Not forgetting that Ochieng was a beneficiary of the Tom Mboya initiated airlift that secured scholarships for Kenyans to study in the US. Among those in the Airlift were former VP George Saitoti, Nobel laureate Wangari Maathai and Barack Obama Senior.
With such names as your former schoolmates, which journalist would have resisted the temptation of thrive in the exciting but uneasy and conflictual relationship that has since existed between the State and the mass media that persists to this day? Not PO!
Ochieng was able to manoeuvre through this delicate scenario, performing a balancing act of subservience to the diktat of a State system averse to criticism whether beneficial to its moral and constitutional obligation, but wielding the power of the pen whenever he got the chance.
Protecting democracy
While his role in holding leadership to account in respect to these sovereign rights of the people is out with the jury, he scales the bar for upholding the legitimate role of the media in protecting democracy and social justice.
I will not delve into the matter of his faith or lack of it in the stratosphere of divinity (I profess freedom of worship), but I can vouch for Ochieng's human spirit of camaraderie wrapped in a hearty wry sense of humour.
He would instantly display this amiable mien whenever he was in the old newsroom that he loved to religiously frequently pop into from his "ivory tower". It was the same whenever he invited you to join him in the "local" across the road after putting the paper to bed.
There, you would find him enjoying his double scotch and he would offer you "one" with a sly wink of recognition and a wry complimentary comment, just as when you would bump into him on him in the street.
Fare thee well Philip Ochieng. The mighty pen has rested but the ink has not dried.