Oparanya, Joho chances of flying ODM flag slim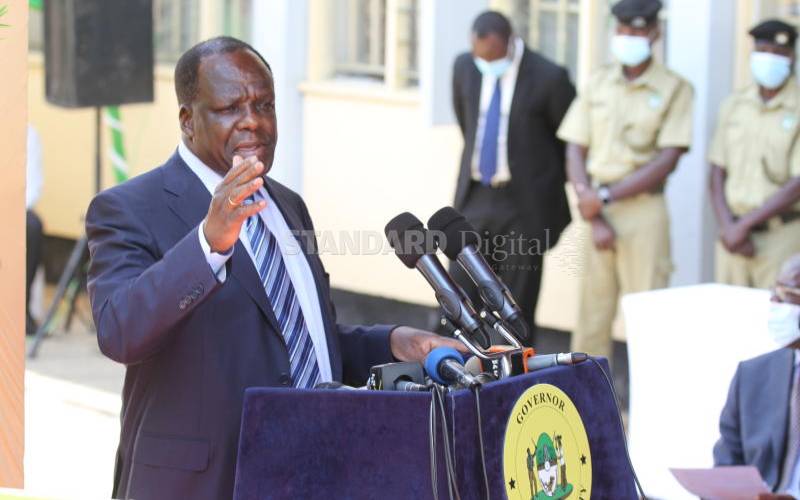 Governors Wycliffe Oparanya and Hassan Joho's chances of flying the Orange Democratic Movement (ODM) presidential flag, in my view, are minimal.
For starters, if Raila Odinga won't be the ODM presidential candidate, this will end 'oranges' in our political rallies. Chungwa House cannot allow that to happen — that's why they halted the processing of Oparanya's application as well as that of Joho.
If the political heavens had started painting on the sky a mene meme tekel token for ODM, they are dead wrong! As long as ODM endures, Raila's candidature as its flagbearer should never cease — unless someone wants to turn the grand old party into a political eunuch.
That could explain why the party chose to prank Kenyans on April 1, 2021. That 'prank' was urgent, strategic, and the day appropriate. But methinks the prank was an afterthought after President Uhuru Kenyatta and his brother Raila's April Fools' Day tête-à-tête and stroll in the park.
The statement, "Raila will not discuss 2022 until after the BBI process is done", spoke louder than the applications of Oparanya and Joho. So the question is, who initiated the ODM flagbearer application process? Does it mean the party is going ahead of its leader?
Why do I think that the chances of the two governors are waffle thin? Let's start with Joho. He seems to have a political mulatto complex — that's why I haven't talked about him in this column like I have with other aspirants; his intentions are seemingly concealed and unprocessed.
Joho made his ODM application around mid-February then in March, the idea of a regional alliance was birthed. Going by his body language and involvement as a key architect in the formation of the Coast region alliance, ODM could have suspected he was changing his mind and dropping the big picture.
That aside, should Joho pursue the presidency under ODM, he will have no chance in the Coast region should the new Coast party take shape and fly. The twist is this; Raila has been against the formation of regional coalitions, including in the coastal region. So can Joho be a political mermaid in ODM and another formation? Can he defy his party leader's wish and survive?
Things are even uglier for Oparanya. First, he belongs to the western region bloc, which is largely in the One Kenya Alliance with Musalia Mudavadi and Moses Wetang'ula holding its regional helm. Second, Oparanya could not deliver Matungu for ODM. Can the party trust him to fly its flag nationally? I doubt.
Worse, Oparanya has expressed his lack of enthusiasm in the BBI, which Raila and ODM are passionate about. Oparanya is on record saying the BBI project should be postponed. How then would ODM endorse him?
The ODM proxies have sworn in public that Raila must be on the ballot and that he can't be second to anyone. Take their word seriously. ODM is an insider-trader of democracy — the honchos at Orange House overrule regional party officials as we saw in Machakos during the by-election. Nothing has changed. Going by its political pranks and hacks, Orange House is not ready to take a gamble with Oparanya and Joho. But let's wait and see.
They seem to believe, just like myself, that only Raila can attract the national appeal needed to save the grand old party from political obsolescence.
-Dr Ndonye is a political economist of Media and Communication