Focus has shifted from Ruto, Raila in 2022 contest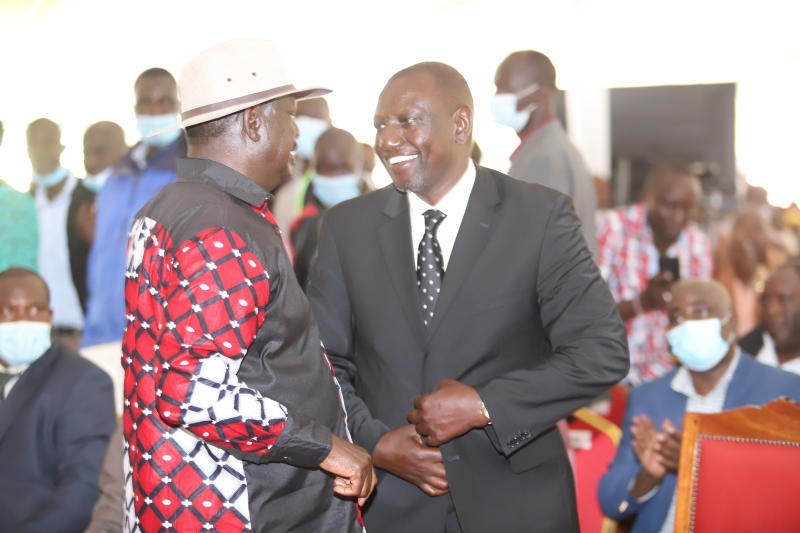 They say a day in politics is a long time. In Kenyan politics, a month sometimes can appear like a decade. A few months ago, the talk in town was that farasi ni wawili. Loosely to mean that in next year's elections, the men to beat were William Ruto and Raila Odinga. As for the party tickets the two would have used, few cared.
In less than three months, the political ground has shifted significantly, and you can take this to the bank that farasi sio wawili anymore. For one, several credible potential candidates have now reared their heads and have support from certain quarters. Whether they end up dislodging Raila and Ruto from pole position will be clear soon.
Former United Nations Conference on Trade and Development Secretary-General Mukhisa Kituyi is back from his Geneva tour of duty. The amiable gentleman and intellectual giant from Bungoma is no pushover, and he is clear that he is going for the presidency.
Gideon Moi, the Baringo senator, enjoyed the company and the wise counsel of his late father, former President Daniel Moi, and is hopeful that the presidential motorcade may soon be back to Baringo.
From the depths of Mbeere, National Assembly Speaker Justin Muturi is making some well-calculated steps in the Mt Kenya region. Although he has not declared a presidential ambition, for me, this is a man to watch. Save for Dr Kituyi, Senator Moi and Speaker Muturi are serving State officers, who can easily enjoy political progression thanks to the networks and resources at their disposal.
For many a political observer, the three gentlemen's entry heralds a new dawn in the local political space. Many had claimed that Ruto and Raila would have an easy ride, sometimes even opining that the farasis had an unassailable lead against their nearest competitors. With the entry of the formidable trio of Muturi, Mukhisa and Moi, the tables are turning.
In politics, any serious contender joining the fray does it with heavy losses to the leading contenders. The loss of potential Bukusu votes for Raila or Ruto thanks to Kituyi's entry cannot be wished away.
The same can be said of Ruto, who has been enjoying rave ratings around Mt Kenya region. Having invested well in his foot soldiers' choice, Ruto has had the Mountain region bagged. The silent entry of Speaker Muturi is, however, sending shockwaves in his camp.
That the likable, suave speaker Muturi has managed to penetrate and almost launched his bid, in the heart of Meru is increasingly making regional leaders quite uncomfortable.
The endorsement by the revered Njuri Ncheke was a particular stroke of genius. Many would have expected him to launch his bid in and around Embu County in the spirit of charity begins at home.
Muturi somehow chose to try and hunt from a relatively more challenging terrain in neighbouring Meru. Of course, this act appears to have infuriated Meru political homeboys, including one known to actively block professionals from his area from accessing state appointments and who has been throwing toys off his pram.
I am not sure how and why such an individual would have made the mistake of perceiving Muturi as a greenhorn. As a sitting National Assembly speaker, he is undoubtedly one of the top three most powerful political players by the constitutional and political office.
It can't be gainsaid, but this is a gentleman with heavy political capital thanks to wide networks that the house affords him.
Such is life in politics, and it is particularly encouraging that we now have a better choice of candidates. I can only hope that these gentlemen make the best of this opportunity.
My money is on speaker Muturi on this one if he chooses to make a stab for the high office. Nothing can stop him.
-Prof Naituli is a Leadership Management lecturer at Multimedia University.